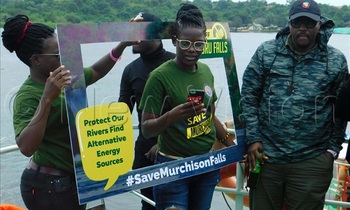 TOURISM MURCHISON FALLS MASINDI
Thirty of us, domestic tourists converged at Total gas station next to the Diamond Trust Bank building along Jinja Road.
Our destination was Murchison Falls National Park and departure time at 6:00pm. The three minibusses were filled to capacity with excited travelers armed with a camera, curiosity, smartphone, and video recording gadgets.

"What are your expectations?" I floated a question to girls and lads clad in Jeans slacks and tee shirts.

"That famed boat ride from the bottom to the top" responded Jonathan Banaih. "I find it ideal for meditation and coming to terms with nature's beauty."

"Bakers Trail is what I treasure," contributed Sam Ntale. "It is far better than going to a gym. The view of River Uhuru and Murchison forming an O from a distance is eye-grabbing."

Soon the engines coughed to life and the journey commenced. The trip was event less save for nature breaks at River Kafu for white and tender roasted cassava, nyama Choma (beef roast) and mangoes. There Marabou storks keep their eyes glued on the movements of one's limbs as they wolf bulbous meat pieces.

As you toss the bones away they fly in anticipation to catch, with practiced expertise, using their bills. They cheer each other with gurgling sounds and clap their bills shut. A story is still told of how one of the ugly birds swallowed a knife and vomited it after failing to digest the metal.

Soon we were cruising through Masindi a town I found to be of no consequence. The pace of life there is slow. Indian architecture still dominates the place save for one high rise structure here and a hotel there. There is the Masindi Hotel that dates as far back as 1920. We ordered packed lunch of fruits, sandwiches and chicken roast.

After 60 minutes flat we were at the MFNP gates. Ahead of us was an African Drive caravan of tourists from Israel armed with: bottles of wine, whiskey, and spirits. They wore grey hats and had their cars embedded with Africa Safari.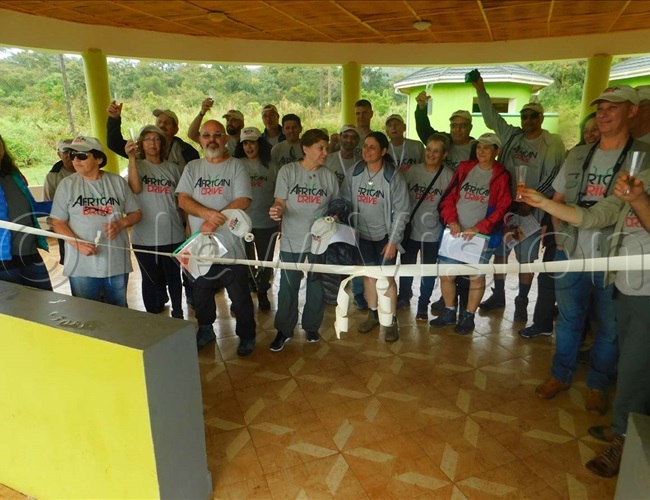 Tourists from Israel.


"We are going through five African countries," said their leader Grand Netanyahu. "We are not interested in politics, religion or economics issues. Here in Uganda, we want to see the Source of River Nile, Track gorillas and most of all Murchison Falls."

The 71 km road that had baboons whispering "Karibu" (You are welcome) at the Uganda Wildlife Authority (UWA) gates have been displaced by the ongoing road widening noise and habitat destruction.
So have the birds that used to tweet and competing with chirping insects in the wood. My guess is that even the reptiles that used to slither in the tall vegetation have relocated. The wide tarmacked road is the envy of any aviator on a runway taking off or landing.

Soon we were at the spot where boats are boarded for a three hours ride. The guide showed us Kingfishers in flight, hovering before diving for a catch in the shimmering waters and vultures patiently watching the world in trees. Monkeys hopped from one branch to another.

From a distance were buffalos, elephants, antelopes, Crocodiles, cattle egrets and pelicans guzzling water. As we mentally sighed a chorus of Uganda is gifted by nature the pilot switched off the engine and the boat ground to a halt.

"That is the massive waterfall that earns this park its name Murchison," announced the UWA guide Emmanuel Mugwiri as passengers rushed to take selfies with steam hanging in the air as huge volumes of water hit the rocks with force.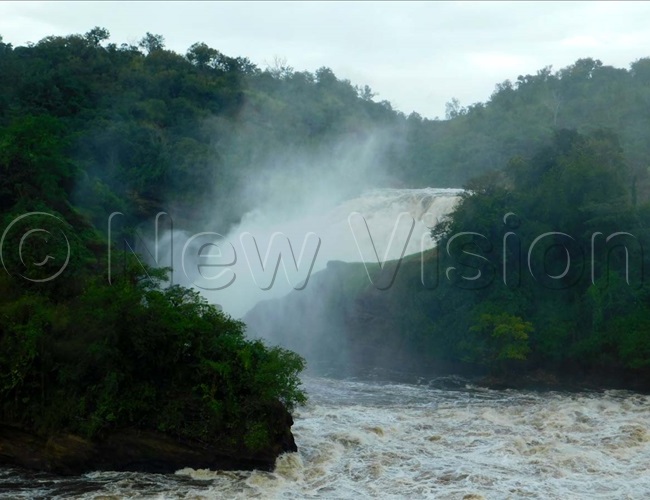 Murchison Falls Beauty


"This place is of great importance to the Acholi and the Banyoro on either side of the River Nile. They have their gods and other related beliefs attached to the waterfalls. The Uhuru water stream is of historic importance to Uganda's independence. That was the year it was formed."

Then the boat docked and those who were not physically challenged embarked on Baker's Trail which is one of the country's best nature walk facilities. The tracks are equipped with guard rails to support walkers. There is a post where they stop to sip some water or have some snacks and replenish the energy lost.

The climax was reaching where there is a permanent rainbow and a shower sprinkling the sweat from foreheads that are beaded with sweat. This is calming as many breaths hard and stagger to take a seat and capture every moment with smartphones or cameras.

It is at this point where Association for Uganda Tour Operators (AUTO) chairman Everest Kayondo choses to address a press conference.

"You have all seen how Uganda is endowed by the birds, mammals, reptiles and scenic views," started Kayondo. "But if Bonang Power and Energy Ltd, a company from South Africa has its wish to construct an electricity-generating dam here - this beauty will be no more."

The Speaker of Parliament Rebecca Kadaga assured the public that Murchison is safe but tour operators and environmentalists are having their fingers crossed.

"Our memories are still fresh with the loss of the white water rafting rapids of Bujagali and Isimba in Busoga," stressed Kayondo. "Murchison Falls is the trademark of this destination. It cannot be counterfeited or found elsewhere like the Big Five or the birds."