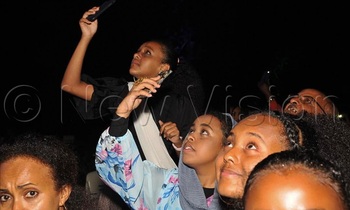 Ugandans took to shouts of joy as it clocked midnight.
Fireworks at Pearl of Africa Hotel, Kampala. Photos by Eddie Ssejjoba
Revellers enjoyed the fireworks display at the Pearl of Africa Hotel, Kampala. Karim Ssozi captured the events on camera.
KOLOLO
At Kololo Ceremonial Grounds, Pastor Jackson Ssenyonga told the children of God that they were not only crossing over to 2020 but to ten years where they will witness a positive change in there lives.
Pastor Ssenyonga preaching. Photos by Lawrence Mulondo
Here, he proclaimed prosperity onto the lives of all Christians. He said the prosperity that will happen in Christians' lives is to be shared with there children and all other people that will be attached to there lineage.
NAMBOOLE
Pastor Joseph Sserwadda said it was time for the barren to give birth, the weak to taste victory and the poor to become rich.
Fireworks at Namboole Stadium, Wakiso district. Photos by Charles Etukuri
SHERATON HOTEL
At Sheraton Hotel Kanda Bongoman joined Ugandans in ushering in the New Year. He charmed them through the period.
Kanda Bongoman at Sheraton Hotel. Photos by Nicholas Oneal
KIBAALE
In Kibaale district, most people converged in Churches and thousands were at Bujuni Catholic Church where the Kibaale episcopal vicar Msgr. John Mary Kabyanga led the believers into the new year by lighting up candles of light.
Video by Ismael Kasooha