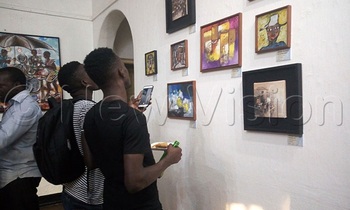 The Uganda National cultural centre (UNCC) together with its partners, has renovated Nommo Gallery, which will be a home for both Ugandan and International artists' pieces.
The renovation was done prior to the 2019 year-end exhibition, which started on Friday under the theme The long Wait. The exhibition will run until January 20, 2020.
The exhibition is aimed at offering high quality works at reduced prices, giving artists the opportunity to network, as well as inspiring students and upcoming artists, among others.
Francis Peter Ojede, the UNCC executive director, said the renovated gallery meets the standards that artists have been yearning for.
"When you look around, you will see a huge difference because of the renovations we have started. Allow me, therefore, to welcome you to the renovated Nommo Gallery, which meets international standards," he said.
Phillip Balimunsi, the curator at the gallery, said it was segmented into potions of different artists and their compositions, something that will give exhibitors a chance to understand who the artist is/was, the history of the gallery and what it is about.
"This space is more of an information booth that you need to interrogate," he said.
Nommo Gallery was founded and established in 1964 by the UNCC Act of Parliament. It is the Uganda National Art Gallery and a component of the Uganda National Cultural Centre.
The place features exhibitions of works of art by both Ugandan and foreign artists and boasts of an impressive assortment of art masterpieces ranging from paintings, batiks, ceramics, art prints, photographs and sculptors, among others.