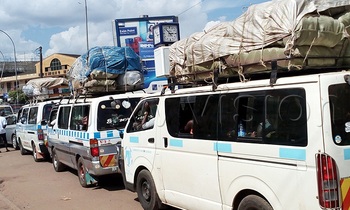 CHRISTMAS FEVER

Traders are running against time to stock up for that Christmas killing.

Some are bound for the countryside, and as you would expect, it is a bit of a dash to get their goods on the road. Many are using taxi rooftop carriers and bus boots to move their commodities through the long journeys.

The demand for commuter taxis has shot up - obviously - as the Christmas fever rises several notches high. A stroll dowtown Kampala typifies the kind of mood you would expect in this festive season.

But the heavily-laden commuters taxis are presented a bit of a concern on the routes they are plying. Clearly, road safety is being compromised.


Charles Ssebambulidde, the traffic Police spokesperson, says commuter taxi rooftop carriers are meant for light passenger belongings and those who abuse them with bulk cargo do get intercepted.

Joseph Mawenje, a truck driver on Kafumbe-Mukasa Road in Kampala, says taxi and bus operators have denied them the chance to tap into the Christmas craze by what he calls selfishly taking cargo that would otherwise have been carried by pickups or lorries.


Most of the interstate buses plying the neighbouring countries are designed with two rear axle for distribution of cargo and passenger weight for reduced impact on road infrastructure.

Ibrahim Kayondo, the secretary general of United Bus Drivers Association, says loading cargo in buses, which is within the maximum permissible weight as per regulations, has no problem at all.