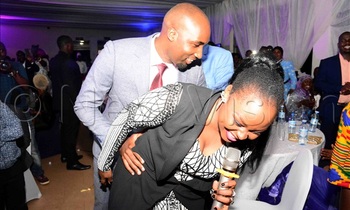 Rema and Ssebunya on stage. Photos by Eddie Sssejjoba
Musician Rema Namakula and her husband Dr. Hamza Ssebunya Saturday excited fans at city businessman Moses Kalungi's graduation ceremony at Lugogo in Kampala.
Rema entertaining the people at the party
She picked the husband from the audience where he was one of the invited guests, swayed his hand and soothed him as she unleashed her famous Gutujja lyrics, to the excitement of the audience.
Rema and Ssebunya entertaining the guests
Rema recently surprised the public when she dropped her long-time fiancé and fellow musician, Eddy Kenzo and introduced a medical doctor and threw a lavish ceremony to the excitement and jubilation of her fans. She recently returned to the music scene after her honeymoon.

Rema, responding to ululations took Dr. Ssebunya to the stage and performed as they tickled each other to the amusement of fans at the party. She again performed 'Tikkula' and led the doctor to the podium where they congratulated Kalungi who was celebrating his recent graduation with a Diploma in legal practice from the Law Development Centre, Makerere.
Kalungi (extreme right) joins the couple
Realizing that no one was giving her any money, Dr. Ssebunya pulled out a bundle of sh20,000 and started throwing it to her, a practice often with socialites and wealthy men in Kampala.

Kalungi, who was franked by his wife Hanifa and fellow students exchanged hugs with the singer and posed for pictures with her.
Bouncers, however, had tough times shielding the singer from fans who sought to take selfies with her and dance with her as she moved through the audience.

Kalungi said he would set up chambers and help the poor, widows and the widowers.
The guest of honor at the function was the former deputy chief justice, Stephen Kavuma and LDC senior lecturer, Richard Mwebembezi.
Kalungi serves cake to former deputy Chief Justice Steven Kavuma