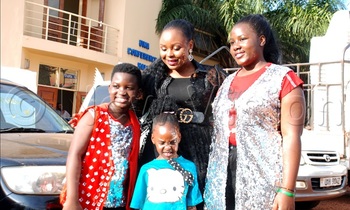 Esther and Ezekiel Mutesasira, East Africa's got talent winners 2019 met with Rema Namakula at the Jesa Xmas Party Bonanza at Uganda Manufacturers Association (UMA) show grounds in Kampala on Sunday.
Ezekiel said they were happy to meet one of the best musicians in Uganda.
"I did not talk much with Rema, but we exchanged contacts and promised to talk to each other soon," he said.
We are so glad that we have met some of our fans, who are close to our ages, Esther and Ezekiel said.
"We have been inspired by our parents who love music and they are good at what they do," Esther said.
"I urge all children to use the holidays to help their parents with house chores and also to explore their talents. It is because of our talents that we are here today," she added.
The duo wished their supporters a happy holiday and festive season.
The event was graced by various people, including Isabella Blick, one of Uganda's motorcycle champions, and representatives of various companies, such as Hot Loaf and Jesa Milk.