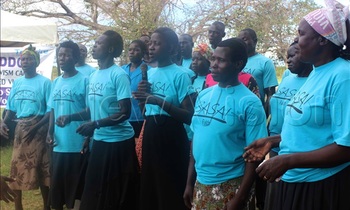 The acting district community development officer of Kalaki district, Joseph Atikiro, has asked men to respect the voices of women.
Atikiro said one of the reasons gender-based violence cases are high in the country is because of the failure to respect women's voices.
He said this failure begins the moment men propose marriage to women.
Speaking in Otuboi and Bululu sub-counties in Kalaki district recently, Atikiro said he does not understand why men do not respect women's 'no'.
He said men have already developed a wrong concept that a woman's 'no' means 'yes'.
"This is where we disrespect women's voices", Atikiro said.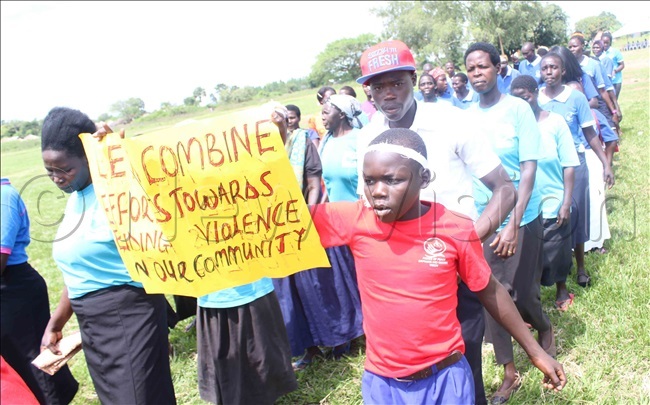 Pupils of Abata Primary School and the Kaberamaido district community matching in support of the fight against violence in the community
Robert Okalet, one of the men who attended the meeting, said it was hard for them to believe the 'no' since they assume women want to test how stronghearted they are.
The father of five said his wife first rejected his proposal.
"She told me that she did not want me, but when I insisted, her 'no' changed into a 'yes', Okalet said.
He said there are instances where they respect women when they say 'no' and those where they do not take it seriously.
Okalet said any woman who says 'yes' straight away when approached for marriage is always mistaken in society.
Meanwhile, Lillian Chandiru, a mother of five, said her partner did not honor her 'no'.
"When my husband approached me, I said 'no' to him, but he insisted until I said 'yes'. Maybe if I had kept on saying 'no', I would not be with him right now," she said.
Atikiro said failure to respect women's voices is one of the reasons gender-based violence is on the rise.
The project officer of the Church of Uganda Teso Dioceses Planning and Development Office Benjamin Ogulu, said they had already trained over 50 community activists in Otuboi and Bululu sub-counties to fight gender-based violence.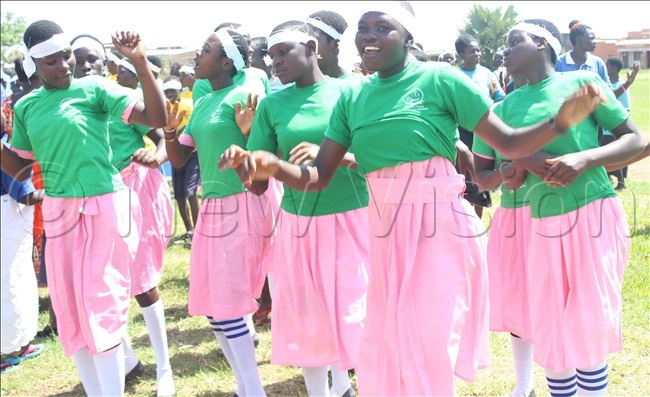 Pupils of Alem Primary School in Kaberamaido district performing in support of the fight against gender-based violence
He said the activists were sensitising the communities and referring cases they cannot handle to the relevant.
Meanwhile, Naume Ajiko, the project officer of Prince of Peace Orphans and Widow's Vision, which operates in Kaberamaido district, said they were empowering both women and school children.
She said they have trained senior women teachers to advise girls on how they can avoid early marriages and defilement.
Meanwhile, the district female councillor of Aperkira, Kaberamaido and Kaberamaido Town Council, Esther Anyiko, said they do not want the voice of women to be second in every organisation.
"Let us have women being considered to be at the topmost positions and men second in command. It is only then that people will respect their voices. Why do you want women to always be the vice-chairpersons and not chairpersons? she asked.
She said much as the Government has tried to favour women as a vulnerable group of people, more still needs to be done.