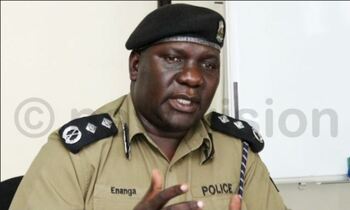 The hunt for 23-year-old John Isma Nsamba alias John Kakongoro came to an end yesterday after a joint security team arrested him from his hideout in Kyankwanzi district.
Nsamba, who was on the run following the gruesome murder of three children, remains a key suspect in the crime, according to Police investigations.
His arrest comes barely two days after the bodies of four-year-old Shurat Mutesi , seven-year-old Nusura Nayebare and 10-year-old Asina Natukunda were recovered a few metres from the home of Hassan Barigye, their father. The three girls are sisters.
Kakongoro, who was employed as a casual labourer at the deceased girls' home, had reportedly kidnapped the girls and asked for a ransom.
"After kidnapping the children, Kakongoro left a note with his mobile number, suggesting that the family contacts him regarding the negotiations for their release, according to Police.
Police spokesperson Fred Enanga confirmed yesterday that Nsamba had been smoked out of his hiding place in Bukwiri Village, Butemba Town Council.
"He admitted to his involvement in the triple murder. He said he was assisted by one Allan Mawanda, who was arrested on Sunday," Enanga revealed
According to Police, Nsamba confessed to having murdered the children after a ransom of sh500,000 was paid. He told Police that he feared that if released, the children would identify him as the kidnapper.
The suspect also reportedly claimed that the bereaved father owed him sh500,000, which he earned when he took part in construction work at one of the former's houses.
Nsamba had initially asked for a ransom of sh5m. According to Enanga, the two suspects will be charged with three counts of kidnap and murder.
Four other suspects nabbed over the weekend, remain detained. They include Eng. Godfrey Katerregga, Hudson Ali, Ivan Sendeka and Henry Ntwasi.
It was not immediately clear by press time what role the four individuals played in the crime, but Enanga said they were accessory to the murder.
"Police is still investigating the incident and searching for the weapon that the suspect reportedly used to slit the victims' throats," he disclosed.
Enanga said preliminary investigations revealed that Kakongoro got disgruntled after he was accused of stealing a television set from Barigye's home. It is believed that before this, Kakongoro had become close to the children.
Kakongoro had mid this year been employed by Barigye as a casual labourer at his home.
Kakongoro's father, Tom Busingye, said his son is a notorious boy, who even threatened to kill him if he does not give him land.
"Other people are dying. Why are you not dying so that I take over the land," Busingye quoted Kakongoro.
Emmanuel Nyanzi, the Kawanda chairperson, said incidents of murder have been rampant in the area.
He, therefore, called on the Police to beef up security in their community in order to curb crime.
Acts of kidnap for a ransom have become rampant in the recent past and many people have lost their loved ones.
The Police has on several occasions warned the public, especially the family of the victims, against negotiating ransoms with criminals.
According to a 2018 Uganda Human Rights Commission (UHRC) report, 74 kidnap cases were reported that year, with 49 of them in Greater Kampala. Among the cases were the kidnap and murder of Susan Magara, in which a ransom was paid. Magara's murder suspects are on remand at Luzira Prisons, awaiting trial.