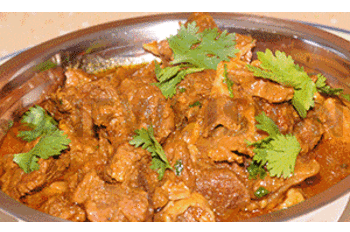 A meaty matter

(By Mark Kaheru)

Honey-Balsamic Pork chops:



Ingredients:
2 pork chops, with bone

1/2 teaspoon crushed red pepper flakes

1/2 teaspoon salt

1/2 teaspoon pepper

2 tablespoons butter

1 teaspoon olive oil

GLAZE:
1/2 cup balsamic vinegar

1/2 cup honey

3 green onions, chopped

2 garlic cloves, minced

1/4 teaspoon rosemary powder

salt

pepper

4 tablespoons butter

Method:


Wash and pat the pork chops dry.

Sprinkle pork chops with pepper flakes, salt, and pepper.

In a frying pan, heat butter and a spoon of olive oil. Add pork and cook on both sides (about 7-10 minutes on each side. Remove and set aside but make sure they stay warm.

In the same pan, whisk the vinegar, honey, green onions, garlic, rosemary, salt, and pepper; bring to a boil.

Reduce heat and simmer until slightly thickened (Do not forget to stir)

Remove from the heat; whisk in butter until melted.

Serve on top of pork chops with baby potatoes and steamed vegetables


Goat Curry: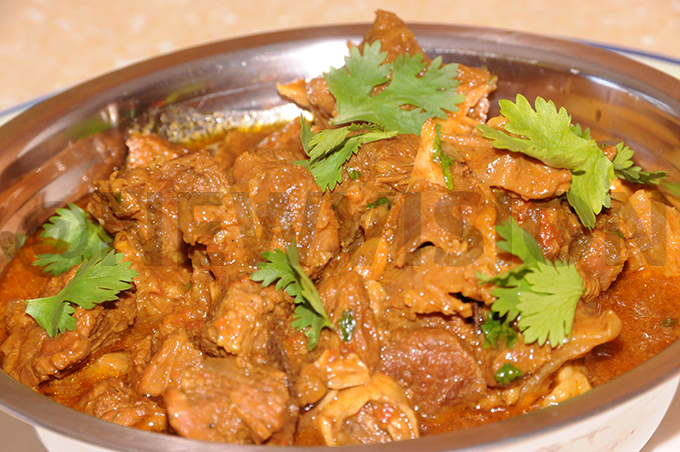 Ingredients:
1/2 kg goat meat

1 tbsp butter

2 tbsp olive oil

3 cardamom pods

5 cloves

1 small cinnamon stick

fennel seeds

coriander seeds

1 bay leaf

1 onion

2 tomatoes, peeled and crushed

1 tbsp garlic, minced

1 tbsp ginger, minced

1 tsp Turmeric powder

1 tsp Chilli powder

1 tsp Coriander powder

1 tsp Garam masala

1 tsp paprika

Fresh coriander

Half a lemon

Method

Wash and drain goat meat

Heat oil and butter in a pressure cooker

Put whole spices in the oil and fry till they release their aromas

Introduce onions and cook till tender

Add garlic and ginger and cook for 1 minute

Add the turmeric, chilli, coriander and paprika and cook till raw smell goes away

Add the goat and salt and cook for 5 minutes

Add the peeled and crushed tomatoes and cook till tender and tomatoes release their oils

Add 400mls water, stir and cover pressure cooker with its lid

After 4 hisses, remove from fire and let pressure cooker release all the pressure

Uncover and add garam masala and fresh coriander leaves and allow to simmer for 4 minutes

Finish with juice from half a lemon

Serve with rice or chapatti


Taste of Italy

BY Michael Bageine

Fetuccine Alfredo


This dish is said to have been created by Alfredo di Lelio in Rome in 1892. It consists of Fettuccine which is a flat and broad type of pasta. Traditionally, the pasta is tossed with just butter and Parmesan cheese.

In today's recipe, we will get to see the versatility of this dish by adding mushroom and making a cream cheese sauce with flour, milk and parmesan cheese.

Ingredients

Prep Time: 5 mins

Cook Time: 15 mins


400g Fettuccine pasta

6 tablespoons butter

1 garlic clove (minced)

2 tablespoons flour

1/4 teaspoon salt

1 1/4 cup shredded Parmesan cheese

1/4 teaspoon pepper

2 tablespoons fresh parsley

2 cups of milk

1 cup sliced mushrooms

100 ml balsamic vinegar
Method
In a large pot, bring water to a boil. Add salt, add fettuccine and cook according to package instructions. Once pasta is ready, remove from the water but do not discard the water. Pasta water can be used to thin out the sauce if it gets to thick.

In a large skillet or pan, heat butter over medium heat. Add minced garlic and cook for 1 to 2 minutes. Add sliced mushrooms and toss till mushrooms are tender. Add balsamic vinegar and let it cook to reduction.

Add flour and mix well until all the mushrooms are coated. Lower the heat and slowly add milk while whisking to avoid lumps. Add half of the parmesan cheese to the mixture and whisk until cheese has melted and sauce is smooth.

Toss alfredo sauce with fettuccine pasta and plate.

Garnish with fresh parsley and the rest of the parmesan cheese.


Grilled Tagliata


If anything defines easy to cook, then this simple Italian dish is just that. It consists of a thick sirloin steak, grilled then carved into thin slices and served on a bed of mixed greens.

Today's recipe is one that anyone at different skill level can prepare without trepidation.

Tagliata could roughly be translated to 'a slice'. This refers to the fact that this meal is served pre-cut into thin slices.

Ingredients

Prep time: 30 mins

Cook time: 10 mins
800g sirloin steak

100g unsalted butter

100ml balsamic vinegar

2 teaspoons salt

1 teaspoon black pepper

2 sprigs, fresh rosemary

½ teaspoon dried oregano

2 tablespoon, olive oil
Home flavours
BY Rogers Balamaga
Chicken and Rice Luwombo
If you want to try out this recipe, and I think you should, please don't restrict yourself to the ingredients I used, you can do away with the milk and cheese and use water instead, you may want to keep the vegetables though for the color, but feel free to be as flexible as you can.
INGREDIENTS
•500g Chicken breasts
• 1 Luwombo leaf
• 1 cup long grain rice
• 2 ½ cups water (or milk, I used milk)
• 2 cups chopped mixed vegetables (carrots, green beans, red and yellow bell pepper, mushrooms, onions)
• 1/4 cup shredded Cheddar cheese (optional)
For grilling chicken;
• 2 cloves garlic
• 1 Lemon
• 1 tbsp. Rosemary
• Ginger
• 2 tbsp. Olive oil
• ¼ cup Worcestershire sauce
• 1 teaspoon paprika
• Salt and Pepper
PREPARATION
• Prepare the marinade and grill the chicken on a grill pan after 20 minutes of marinating
• Combine everything in your luwombo leaf and wrap it tightly
• Bake in a preheated oven for about 21/2 hours or wrap in banana leaves and steam like you would with steamed matooke on firewood or charcoal stove.
• Serve when ready with gravy made from leftover marinade.