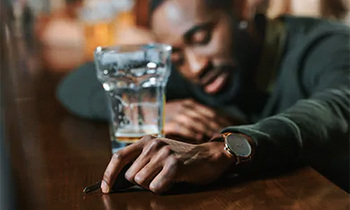 DEPRESSION DRUG ABUSE MENTAL HEALTH

KAMPALA - Derrick Kandi worked for one of the micro-finance institutions in Kampala. He had been dating his girlfriend Susan for nearly three years and preparations for their wedding were in high gear. However, trouble started when his girlfriend visited him at the office.

After he had introduced him to his boss, they exchanged contacts and before he knew it, they were going out together. When he learnt about it, he thought of confronting his boss, but found no courage. He became desperate, depressed and less productive at his workplace. He isolated himself and talked to nobody including his family members.

As fate would have it, Kandi was reported a non-performer and subsequently sacked. In less than six months, he had lost his girlfriend and job.

Kandi resorted to alcohol and found solace in bars where his newfound friends introduced him to other drugs.

"Alcohol and drugs somehow helped me forget my pain and I would only be happy after drinking alcohol. I would even carry it wherever I would go," Kandi said.

Within a year, Kandi had lost weight, consumed all his savings and all he thought of was to take his life.

"I lost my self-esteem, friends and even my family members got fed up of me," he said, adding that one day he contemplated committing suicide.

However, help came his way one Saturday afternoon when a family friend, who had visited their home from the US enlighten the family about depression and its treatment.

"When I reached out my hand to greet Uncle David, I was so surprised that he didn't shun me as everybody else did. He actually convinced my family that I was suffering from depression and that I needed help," Kandi said.

Kandi explained that at first, his father laughed it off claiming that those were diseases of the Western world but he later bought the idea and Kandi was checked in a rehabilitation centre."

"It was not easy to convince myself that I was depressed because I thought I was bewitched. But my uncle convinced me to start treatment," he added.

Overcoming depression, stopping using drugs and alcohol did not come easy for Kandi who spent six months on treatment.

"I kept on treatment, but even then I did not completely get well but with the help of friends, I managed to get to state where I realized that abusing alcohol and drugs was slowly killing me," he said adding: "It is three years down the road now and I've managed to achieve more than I had lost."

Like Kandi, many people especially the youth between 18 and 35 are battling depression and often resort to substance abuse as the solution which instead worsens the situation.

What is depression?

According to the Ministry of Health, depression is a common mental disorder that presents with persistent low mood (sadness) or loss of interest in pleasurable activities.

The mood disturbance is commonly associated with unexplained sadness for at least two weeks, lack of sleep or disturbed sleep, loss of interest in social contact and what one previously used to enjoy, poor concentration, feelings of worthlessness, failure, self-blame, and low self-esteem.

At the extreme, recurrent thoughts about death and acts of self-harm or suicide are common.

Causes

According to WHO, depression results from a complex interaction of social, psychological and biological factors.

People who have gone through adverse life events (unemployment, bereavement, psychological trauma) are more likely to develop depression.

Depression can, in turn, lead to more stress, dysfunction and worsen the affected person's life situation.

It can also be caused by continuing difficulties, long-term unemployment, living in an abusive or uncaring relationship, long-term isolation or loneliness, and prolonged work stress, among others.
When left untreated, depression affects people's ability to work and may lead to suicide or homicide in extreme cases.

The director of Butabika National Referral Hospital, Dr. David Basangwa, said many Ugandans with depression are suffering silently due to lack of knowledge to identify features of depression and ignorance about how to access treatment.

"A lot of people don't know that they have depression and go untreated. They are going through a lot of suffering and some end up committing suicide," Basangwa said.

Although the majority of people who have depression do not die by suicide, having major depression does increase suicide risk compared to people without depression.

"Even those who get to know that they are depressed sometimes do not seek treatment because they don't know where to seek treatment or shun known mental health facilities because of stigma," Basangwa said.

He noted that depression is the third most common reason for admission to Butabika Hospital, after alcohol and drug abuse; and organic mental illnesses.

According to the 2017 World Health Organisation (WHO) report, 1.7 million Ugandans suffer from depressive disorders and 1.07 million Ugandans suffer from anxiety disorders.

By 2030, WHO estimates that depression will be the second leading cause of world disability where it is also expected to be the largest contributor to the disease burden in both developed and developing countries.

Godfrey Rukundo from the department of Psychiatry at Mbarara University of Science and Technology (MUST) said it is very dangerous not to detect depression.

"A person who is depressed for two weeks will not be like someone who is depressed for a month. Early detection is very crucial," he said adding that early diagnosis improves prognosis or outcome of a situation.

Treatment and prevention of depression

There are effective treatments for moderate and severe depression, the World Health Organisation stipulates that health-care providers may offer psychological treatments (such as behavioural activation, cognitive behavioural therapy, and interpersonal psychotherapy or antidepressant medication and tricyclic antidepressants.

Psychosocial treatments are effective for mild depression.

Antidepressants can be an effective form of treatment for moderate-severe depression but are not the first line of treatment for cases of mild depression.

However, they should not be used to treat depression in children and are not the first line of treatment in adolescents, among whom they should be used with extra caution.

How the community can help

The Minister for Primary Healthcare, Joyce Moriku, recently noted that people need to know that depression can be prevented and treated.

"A better understanding of depression, how it can be prevented and treated will help reduce the stigma associated with the condition and lead to more people seeking help," Moriku said.

She encouraged communities to take interest in their members who manifest symptoms of depression and who express ideas of suicide and support them to get care.

"Let us be on the alert, by recognizing early signs of depression and putting in place measure to curb complications following stressful events," Moriku said.

Effective community approaches to prevent depression include school-based programmes to enhance a pattern of positive thinking in children and adolescents.

Interventions for parents of children with behavioural problems may reduce parental depressive symptoms and improve outcomes for their children.

Exercise programmes for the elderly can also be effective in depression prevention.

Challenges

Although studies have indicated the effectiveness of treatment for depression, the majority of the people in need of treatment do not receive it due to lack of information about the illness.

Other barriers to care include:

Lack of skilled providers

Inadequate resources

Stigma


RELATED STORIES
Postnatal depression is a reality