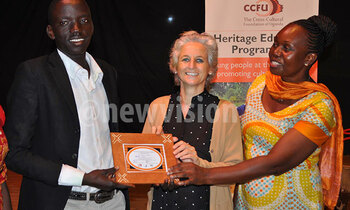 Young people across East Africa have been rallied to embrace culture as a tool to promote peace and unity across the region.

According to the Heritage Programme Manager at Cross Cultural Foundation Uganda (CCFU) -Fredrick Nsibambi, East African countries have in the past experienced conflict with cultural undertones, but culture has not been considered in resolving the conflicts.

To ensure culture is used as a tool in resolving conflict and promoting peace in the region, "young people must be put to task to embrace cultures that promote peace," Nsibambi says.

The Deputy Executive Director CCFU Barbra Babweetera Mutambi says young people look at culture as something backward "but culture is who we are. Children in our societies are promoters of peace," she says.

Renowned lawyer, Lecturer and the Director Chapter Four Uganda Nicholas Opiyo also added that culture provides a justice system that promotes peace, harmony and general wellbeing.

He made the remarks as he delivered the keynote address on culture and its role in promoting peace and unity.

This was at the heritage award ceremony held on Wednesday in Kampala for 13 young peace and cultural ambassadors from Kenya and Uganda, and a cross-border youth panel discussion held on cultural diversity, a key resource for peace and unity in East Africa.
(L-R) Emily Drani, the Executive Director Cross Cultural Foundation Uganda (CCFU), Barbra Babweetera Mutambi, the Executive Director CCFU and Mary Kirui who represented the Kenyan High Commissioner interacting during the Heritage awarding ceremony in Kampala. PHOTOS: Shamim Saad
"Culture is important unless we appreciate culture no peace will be built. Young people should embrace culture not because they relate to it but because they appreciate culture and its role in promoting peace and unity,

Learn your cultures if you don't know what it is then how are you going to participate in it. Use your culture to solve problems," Opio explained.

The representative of the European Union Delegation to Uganda Beatrice Campodonico says in every tribe in Africa, there exist the culture to manage conflict and live in peace.

"We hope leaders will create new opportunities for young people and mobilise stakeholders to promote intercultural dialogue and cultural diversity among young people as drivers for social inclusion and sustainable human development.

This will heighten the appreciation of culture as a key resource in contributing to development and nurturing a responsible generation," Campodonico who is the Aid coordinator at the European Union in Uganda said.

Opiyo stated that societies that thrive globally have strong cultures. Let's use culture as a tool to promote rule of law in our country and region.

Culture can impose that element of peace, justice and harmony in any society and one example that stands out was the mato-put cultural justice system that worked better than the conventional justice system in reconciling people in northern Uganda and promoting peace after over 20 years of the LRA war.

Young people should appreciate culture, participate in it and be proud of culture because above promoting peace and unity culture is also a source of pride, joy and brings a sense of belonging in a community.

Opiyo says young people can use culture as well to fight bad governance. "Let's use culture to promote rule of law in this country and the East African region," he said.

Mary Kirui who represented the Kenyan high commissioner at the award ceremony says the East African Region needs peace and the Kenya and Uganda governments are delivering on that front.

She however says the world is looking up to young people to promote this peace.

"Young people are the future. We must find ways of engaging young people who are our future in cultural practices that they must embrace to promote peace.

If we don't engage the young people at the moment to embrace culture and wait for ages that is a generation is gone. This is the moment," Muvune Mutisya the Director Community Peace Museums Kenya said.