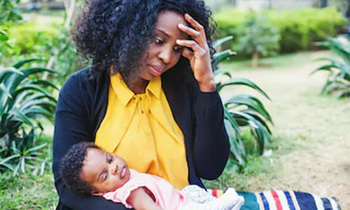 PARENTING REPRODUCTIVE HEALTH

KAMPALA - When she was pregnant, Rehema, 25, fussed about the unborn baby as if she was carrying a golden egg. If you wanted her to sit in a certain way, drink or eat something, all you had to say was it was good for the baby.

"She bought so many things for the unborn baby that we did not know what gifts to give it," her sister said.

Rehema was the picture of a mother in love with her baby. Yet when the baby was born, she could not care less! "She did not even want to carry or breastfeed the baby and would leave it in the care of her mother most of the time," a friend of hers noted.

In addition, Rehema was too emotional. Out of the blue, she would scamper off to the bathroom to cry. She did not wake up in the night when the baby cried and left all its care to her mother!

"Many of us think that as soon as one gives birth, they are going to experience tremendous joy. But actually, many mothers instead get depressed," said Kajumba Mayanja, a clinical psychologist and psychology lecturer at Makerere University. At least one in every 10 new mothers suffers from postnatal depression (PND) according to several psychological studies.

"It is quite common here in Uganda but unfortunately most of the cases are not brought to the hospital," said Dr. James Walugembe, a consultant psychiatrist at Butabika Hospital. "Most women suffer silently because they think it is embarrassing to confess that they are not happy about having the baby," Mayanja said.

Postnatal depression goes deeper than the baby blues that nearly every mother suffers from in the first few days after delivery.

It persists for a long time and requires medical intervention. The depressed mother will show any number of symptoms such as self-neglect, irritability, unexplainable exhaustion, hostility especially to the spouse and other children, indifference to the baby, excessive anxiety, panic attacks, suicidal thoughts, excessive sadness over seemingly trivial matters, loss of appetite and consequent weight loss and very commonly, and failure to cope with her new maternal role, among others.

Doctors attribute postnatal depression to hormonal changes that occur after the delivery, but there are other causes. "Most of the causes of postnatal depression are more psychological than physical," said Mayanja.

A history of a psychiatric disorder, being in poor relationships, lacking social support, going through traumatic events, low incomes and birth complications predispose certain women to PND according to Walugembe.

Mayanja adds that other stressors like the impact of childbirth on the woman's body, being torn between her new motherhood role and the other existing ones, the baby's poor health, having to sacrifice one' s own comfort for the child, career demands as well as childhood emotional ghosts can also cause PND.

Treatment

As first aid, mothers suffering from PND should be given a lot of social support for example by offering a listening ear, giving them financial support and helping them with household and baby chores. But Walugembe said: "It is very important for these mothers to be taken to hospital."

According to him, the risk of suicide for these mothers is real and once in a while, the depression, if not treated, may progress into a puerperal psychosis, a severe mental disorder that may require hospitalisation in a psychiatric hospital like Butabika.