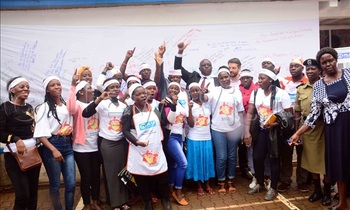 SEXUAL HARRASSMENT GIRLS KAMPALA
Plan International Uganda has identified streets as the most unsafe spaces for young girls and women where they are often sexually harassed and ridiculed by men.
In a survey report the organization released at its head office in Bugolobi in Kampala city, it was revealed that the majority of girls and women who report cases of sexual harassment to authorities mainly the police, are not helped or belittled and their matter regarded as 'useless'.
At least 796 out of the 960 participants (83%) of girls and women interviewed during the survey conducted in 2018 confessed that streets were unsafe for them.
But out of the 339 cases of sexual harassment that were reported by these girls to the authorities including the police, only 54 (16%) were responded to and action taken. However some places, according to the survey were reported to be safe. These included Kololo, Ministers' Village Ntinda, and a few others.
According to the child rights organization, this reflects the need to significantly increase efforts by all stakeholders to end Sexual and Gender-based Violence in all areas.
The survey, dubbed Reporting to authorities: Girls and young women's experiences of reporting sexual harassment' is part of the 16 Days of Activism against gender-based violence.
It was launched by Justice David Batema of Soroti High Court, who is a gender activist and champion of women's rights in Uganda.
During the crowd-sourcing survey using a digital mapping tool in Kampala city last year, more than 1,300 young women shared their experiences of city safety ranging from street harassment. The behavior women detested ranged between cat-calling and menacing actions to sexual harassment.
Speaking at the event, Plan International Country Director, Greg Lavender said, "Street harassment is one of the various forms of violence that negatively impacts on the lives of many women and girls in this country; this vice cannot be treated lightly anymore".
The report also found out that an overwhelming number of girls and young women thought they would not be believed by authorities if they reported a case of street harassment or that they would be further harassed by the authorities themselves.
But Greg said all human beings have an inherent right to be treated equally without any form of discrimination.
"The failure of authorities to adequately respond to the issues of street harassment provides an environment for the practice to continue with impunity and thus normalized and treated as unimportant or minor," he explained, adding that it reinforces the belief that reporting is not worth it. "It can lead to girls and women to feel unable to rely on others for support."
According to Greg, the cities are for everyone and should be safe and welcoming.
Justice Batema said that article 33 of the 1995 Constitution states that women shall be accorded full and equal dignity of the person with men.
According to Batema, the law is reinforced in the different laws and policies on gender-based violence that can be referred to.
He stated that perceptions, attitudes, and behavior towards women and girls have not changed in the country and this is the reason why 'some men have the audacity to harass girls and women on the streets because they still see and treat women as sex objects. "I wish to emphasize that all girls have the right to feel safe in the city," he stated.