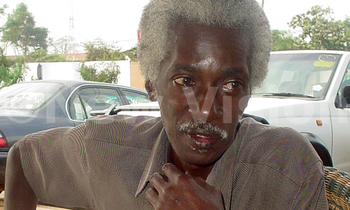 Wasswa Lule was born on December 18, 1949. He was educated at Nakasero Primary School, Kampala. At the time, it was a preserve of European and affluent Asians' children. In fact, only three black students were in that school at the time, Lule, his brother Kato and Ssewanyana Kironde, the son of Uganda's first lawyer, Apollo Kironde. From Nakasero, Lule joined King's College Budo and later Makerere College School, Kampala.
He joined Makerere University and studied for only one semester because he was offered a scholarship by the Association of African Universities to enroll at the University Of Lagos, Nigeria in 1972. Hence, he graduated from there with a bachelor of science in accounting.
After his certification as a member of the Association of Certified Accountants in 1975, Lule was employed as audit manager with Gill and Johnson Chartered Accountants, a British Accounting firm, which was then based on Black Lines House, Kampala.
Thereafter, he was transferred to England and served as Accountant-in-Charge with Deloitte Haskins and Sells Chartered Accountants, whose offices were situated near St. Paul's Cathedral in London. He was residing at Edgware in London. The aforesaid company he was working for was a consequence of a 1952 merger between Deloitte, Plender, Griffiths & Company and Haskins & Sells.
While still working with Deloitte Haskins and Sells Chartered Accountants, Lule's father became president of Uganda on April 13, 1979. For the 68 days, his father served as president, Lule never stepped in Uganda.
Later from 1981 to 1985, Lule joined a British firm, Philips Industries, as its managing auditor. He then joined Lloyds Bank PLC, London, where he served till 1989.
Working for Lloyds was such a milestone for Lule, considering that the 257-page management telephone directory which that bank published in autumn 1988, reveals that Lule was the only person with an African sounding name that was working with that reputable bank. In Lloyds Bank, Lule served as its head office inspector, inspection department.
IGG APPOINTMENT
On July 23, 1986, Museveni appointed Lule as the deputy IGG. Shortly after that appointment, Prime Minister Dr. Samson Kisekka traveled to London for official duties. While there, Kiseeka summoned Lule and his other relative to his hotel room to deliberate over the aforesaid appointment.
Kisekka and Lule were familiar with each other since Lule's father had worked closely with Kisekka in the external wing of the National Resistance Movement (NRM) during the National Resistance Army (NRA) liberation war. Actually, after Lule's father died on January 21, 1985 at Hammersmith Hospital, London; Kisekka, Kategaya and Musisi Mpiima, among others, attended his funeral at Kingsbury, London.
By the way, it was at that funeral that Kategaya remained unclear in his response when asked by Baganda mourners whether Kisekka would automatically replace Lule's father as the leader of NRM.
In light of that background, when Kisekka summoned Lule to his hotel room in London, the two had a candid talk during which Kisekka formally informed Lule that he had been appointed the deputy IGG. The appointment letter was dated July 23, 1986, with reference number EC.9125. It was signed by W.O Wanyama, the then permanent secretary, ministry of public services.
The letter read: "I am pleased to inform you that His Excellency the President has, in accordance with the powers vested in him under Article 104 (1) of the Constitution of the Republic of Uganda, directed that you be offered appointment to the post of Deputy Inspector General, Government Inspectorate." The appointment was on contract terms with sh781,056 salary per annum. The contract duration was 24 months renewable and its gratuity was 25% of his basic salary for the total period of the contract.
SNUBS JOB
To Kisekka's surprise, after he notified Lule about the job offer, Lule and his relative present in the London hotel room were never excited about that appointment. Actually, Lule's relative told Kisekka that the portfolio of deputy IGG was too junior for Lule in light of his father's contribution to the NRM/A liberation struggle.
Lule's father had been the chairman of NRM following the June 8, 1981 merger of his group, Uganda Freedom Fighters (UFF) and Museveni's Popular Resistance Army (PRA). In that capacity, Lule's father brokered the August 1981 meeting between Prince Ronald Mutebi (now Kabaka of Buganda) and Museveni.
That meeting took place inside Lule's father's house in Kingsbury, London. Sam Njuba, Dr. Ruhakana Rugunda and Mathew Rukikaire accompanied Museveni to London for that meeting, although they were not allowed to attend the main talks. In that meeting, Prince Mutebi expressed his determination to visit the war zone then, but Museveni considered the situation as too risky for him to do so. Meanwhile, Museveni pledged that once in power, his government would restore traditional and cultural institutions with optimism that they would act as consolidating tools for Uganda's national unity.
Lule's father's other contribution to the NRA struggle was the donation of a mobile radio to NRA rebels. The radio equipment was sneaked to the rebels in October 1983, with the assistance of Roman Catholic priest, Fr. Celestine Kateregga of Namugongo. The equipment was first transported on a pick-up truck, until they reached Buwambo, from where they were loaded on four bicycles.
Members of the NRA black bomber unit, which provided security for the safe delivery of that equipment were: Godfrey Ssegawa (now Major, retired), Jackson Makanga and Kaboggoza, whom Museveni usually called Kyaliwajjala.
Subsequently, that family was willing to give NRA a more powerful radio, given that after the death of his father, Lule travelled from London through Kenya and Rwanda and entered into the NRA liberated areas on December 19, 1985. Other notable passengers aboard were Garuga Musinguzi (a tycoon with massive investments in real estate and tea growing) and Alhaji Moses Kigongo's wife.
On arrival in NRA liberated zone in western Uganda, Lule interacted with, among others, John Kazoora and Andrew Lutaaya. They agreed to purchase a more powerful radio for NRA. Thus, Lule returned to London with Njuba's relative, Charles Kiwanuka (an expert in electronics), who is now exiled in Europe. The radio was, however, never purchased since the war ended soon.
The other contribution which Lule's relative reminded Kisekka in London was that of their other relative, Ishaq Ssali, who sneaked weapons and recruits to NRA. During the NRA war, Ssali was staying in Kololo, where Fred Rwigyema would clandestinely pick those weapons and recruits.
Those weapons were usually disguised in wrapped clothes. No wonder, Ssali's wife, Hawa, who had been hoodwinked by her husband that they were clothes for sale, one day, instructed her maids to load one package into her car boat for donation to her sister. Shortly after she drove off with it, her husband and Rwigyema arrived. On being told that one bundle was taken by his wife for donation, Ssali drove at breakneck speed and picked it from his wife before it was opened.
Subsequently, Obote's security operatives got to know of Ssali's links to NRA. Hence, he was tortured at Makindye barracks on three occasions. On release, Ssali relocated to Nakawuka and opted to burn his Audi car for fear of revealing his presence.
Meanwhile, Ssali's in-law, Lawrence Kimbowa Mukalazi of Naggalabi, once treated Museveni's swollen leg with herbs during the bush war. Furthermore, Lule's sister, Farida, formerly a member of Museveni's political party; Uganda Patriotic Movement (UPM) in 1980, also ferried a number of weapons and recruits to NRA. In light of the aforementioned contributions, Lule's relative made it categorically clear to Kisekka that the position of deputy IGG, which Museveni offered Lule, was too junior.
ACCEPTS JOB
After Kisekka was told so, he returned to Uganda, and proposed a meeting between Museveni and Lule. Accordingly, Museveni met Lule at State House, Entebbe and convinced him to take up the position. When Lule accepted, a fresh appointment letter was authored on April 5, 1989, signed by H.J Obbo. It indicated that Lule's appointment would take effect on April 25, 1989.
During his tenure as deputy IGG, Lule fearlessly unearthed hair-raising corruption scandals. As he continued to do so, he was dismissed after three years of service. He received the dismissal letter in the morning with clear instructions to hand over office that very day.
After he handed over, Lule asked for the department's Land Rover to deliver him to his home. However, his request was rejected. Hence, Lule walked from his then office at Yusuf Lule Road, Kampala to his home at Lungujja, Rubaga. Lule was not also given his last month's salary and gratuity to start a new life.