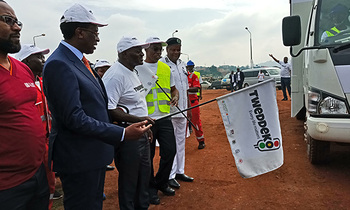 ROAD SAFETY

KAMPALA - The Government is set to resume mandatory inspection of all vehicles on roads to combat road accidents, the state minister of works, Gen Katumba Wamala has said.

"It's not a punishment, it helps the individual owner of the vehicle to know the condition of his vehicle from time to time and to reduce the number of accidents which occur due to poor mechanical condition of the vehicle," he said.

Gen. Wamala was speaking during the launch of a road safety campaign dubbed Tweddeko at Kalerwe roundabout in a Kampala on Thursday.

Sometime back the Government signed a contract with a Swiss company Generale De Surveillance (SGS) to routinely inspect vehicles aimed at getting cars in poor mechanical condition off the roads and reduce accidents.

However, this drew a backlash with Members of Parliament, questioning the deal wondering why give a multinational company to handle vehicle inspection when Police has a department of vehicle inspection.

The lawmakers then demanded that the agency be investigated for reaping off Ugandans of their hard-earned money.

However, Gen. Wamala said the Cabinet is going to discuss issues raised by legislators saying Uganda is not the only country checking vehicles.

As the festival season nears, Gen. Wamala cautioned drivers and those Ugandans chasing deals against reckless driving.

"There is nothing more valuable than life. If you rush to get money by speeding, you may not get that money but die due to accident," he said.