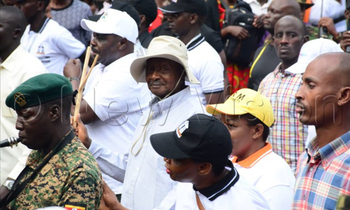 It was walk to work today as hundreds of people commuting from different parts of the city suburbs walked for kilometers to access their places of work in the city center.

This followed Police blockage of all major roads leading to the city center to pave way for the smooth national anti-corruption walk.

The dominantly VIP procession led by President Yoweri Museveni started at the Constitutional Square at 8:32 am and ended at 9:20 am at Kololo independence grounds. It was organised by the State House Anti-Corruption Unit (SHACU), led by Lt.Col Edith Nakalema under the theme "A corruption-free Uganda starts with me".




Prior to the walk, Ministers, MPs, activists, civil servants, religious and traditional leaders as well as members of the public were taken through fitness drills to warm up their muscles for the 3.3km walk.

People started gathering at the Constitutional Square as early as 6:00 am and the President showed up at 8:25 am, walking from State House Nakasero amidst tight security.

After the national anthem was played by the army brass band, Museveni started the walk, which took about 40 minutes, for the group to reach Kololo, where he (Museveni) later addressed the gathering.




At his age (75), Museveni's fast pace left many of the walkers shocked, as many were seen panting and struggling to catch up. Some of the participants were heard saying, "Mzee ayina stamina," literally meaning, "Mzee is fit."

The walkers, who also included Vice President Edward Kiwanuka Ssekandi, joined the procession on a wet surface under a grey mid-morning sky.

The born again fraternity added color to the walk, by singing worship songs and calling upon the Lord's help in the fight against corruption. Some stopped at the Jinja road roundabout to pray for the cleansing of the land.