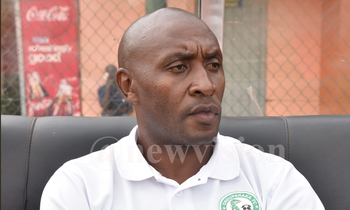 New Wakiso Giants coach Livingstone Mbabazi says he is ready for the new challenge at the club.
"I am delighted to be joining a club with great ambitions. The club's organisation and their sense of direction are what has attracted me, and I am looking forward to having success here," stated Mbabazi.
Mbabazi who was also at Onduparaka, Mbarara City among other clubs signed for Wakiso Giants until the end of the 2022/23 season.
Mbabazi, a top player during his playing days is one of the best coaches in the land with excellent tactical know-how.
He took over from former Uganda Cranes player Steven Bengo who was been the care-taker since the sacking of Kefa Kisala. Bengo is now one of Mbabazi's assistants.
Mbabazi will be in charge of the team in the second round of the league that gets underway in January.
Club CEO Sula Kamoga was full of praise for Mbabazi
"In Mbabazi, we have one of the best coaches around who is truly passionate about the game. He is a great tactician and has the experience to steer the club in the direction of our ambitions and we believe he will bring the desired energy and belief to the dressing room and the entire club as well," noted Kamoga