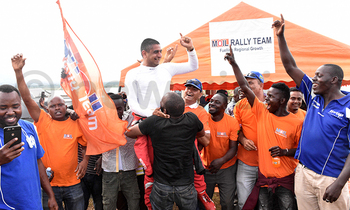 Despite putting up a spirited fight, Arthur Blick Jr. could not stop a resilient, determined and fired up Yasin Nasser, whose target was nothing but the National Rally Championship (NRC) crown.
Nasser went into the MOSAC Rally on Saturday targeting a second position to seal the title, if his challenger Blick won the event, but he managed to finish fourth overall as the latter finished third overall.
"This is good for us, we have achieved our target and next year we are looking at defending it and also be part of WRC in Kenya," Nasser said after the race on Sunday.
Nasser navigated by Ali Katumba in a Subaru Impreza GVB faced stiff opposition from contenders Ronald Ssebuguzi and the race winner Omar Mayanja in a Mitsubishi Evo10.