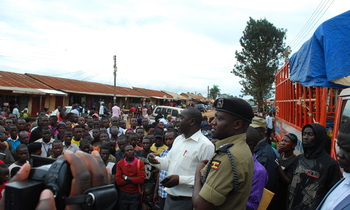 Romeo Ojara, the Kagadi DPC and Geofrey Businge, Mayor Kagadi town council, addressing residents in Nankulabye over the murder of a witch doctor, Swaibu Katumba. Photo by Andrew Musinguzi
A prominent witchdoctor was on Wednesday lynched by an irate mob after he allegedly tress passed on Sion catholic tourist shrine in Rubona Parish in Ruteete sub-county Kagadi district.

Romeo Ojara, the Kagadi district police commander identified the deceased as Swaibu Katumba from Kamuli district.

Ojara said Katumba who has been practicing his witchcraft activities in Nankulabye cell Kagadi for over five years, was on Wednesday at around 4:00 am attacked and clobbered to death by residents of Kazekolere trading centre in Ruboona parish in Rutete sub-county after he allegedly attempted to access Sion catholic tourist.

"We are still investigating the exact cause of murder. Preliminary investigations indicate that the deceased was nabbed with fetishes that include feathers, birds, calabash, horns, skin, and chicken which he wanted to use to perform his rituals at the catholic shrine,'' said Ojara.

Warren Byamugisha the night watchman at the shrine said he heard three people late in the night at around 1:00 am on the top of the hill without clearance and intervened.

Byamugisha said the trio interacted with him peacefully, but they refused to disclose their identities forcing the watchman to make an alarm that attracted residents in neighbourhoods.

The residents pounced on the witchdoctor, lynching him, while his colleagues escaped.

However, some residents lashed out at police for delaying to reach the scene even when they were called in time saying they had no fuel.

It is alleged the witch doctor was hired by one of the residents to go and perform rituals at the catholic shrine.

Lilian Ruteraho, the Kagadi Resident District commissioner, condemned the acts of mob justice and said the deceased had not harmed anybody.

She said Kagadi Police has intensified its investigations to arrest and hold accountable to whoever was involved in the act.

"We shall not allow people to continue taking the law into their hands. There are a variety of avenues to settle grievances and conflicts that may arise in the community which should be exploited,'' she added.

Joseph Masanduko, the head of traditional herbalists in Kagadi condemned the act and said, witch doctors, are protected by the national constitution with the freedom of worship and association.

''It is absurd to kill an innocent person. He had not charmed anybody and was just performing his rituals at the shrine. Residents could have taken him to police than taking the law into their hands,'' he said.

Geoffrey Businge, the LC3 Chairperson Kagadi town council said although there is freedom of worship and association, tress passing is criminal and invasion of a holy catholic shrine to perform witchcraft rituals was ungodly.

Sion catholic shrine is owned by Mugalike parish where every August each year pilgrims from greater Kibale and Bunyoro sub-region flock the shrine to worship in commemoration of Virgin Mary who is believed to have appeared on the hill.

Sion comprises rocks with footprints, streams and other touristic attractions that attracts Christians from all walks of life.