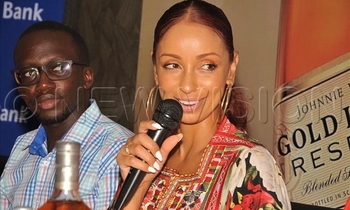 ENTERTAINMENT

KAMPALA - Right from her arrival on Wednesday night at Entebbe International Airport, American singer Mya has not stopped expressing her joy at being in Uganda for the first time. Already, she has her favourite Ugandan song.

Any guess? Gutujja by B2C and Rema. The song has done well this year on the local charts.

What strikes her about the song? That remains up to her but it probably shows she took her time to follow up on the Ugandan entertainment scene soon after agreeing to performing here at the Johnnie Walker 30th All Music Safari.

At the press conference held Thursday morning in Kampala, Mya said, "I am so happy to be here, this is going to be an amazing unforgettable concert, expect the best of music from all of us on Saturday."

The Grammy-award winning artiste added, "I am delighted to be a part of the All Music Safari concert. Thank you for welcoming us with open arms, we have been rehearsing very hard and we cannot wait to share with you all what we have been working on this weekend."

To many music lovers here, Mya is that American girl that gave us Case Of The Ex song, that upbeat R&B tune that rocked our TVs and radios at the dawn of the millennium. But Mya (born Mýa Marie Harrison) is a lot more than that, musically.

Her other songs like Fallen (2003), Things Come and Go (2003) (featuring Sean Paul) and My Love Is Like Woah (2003) off her album "Moodring" were a staple on our music circuit here.

The show's organiser Tshaka Mayanja will also mark a milestone of 30 years in the industry.