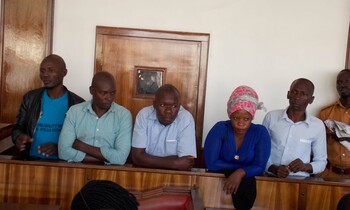 The Director of Public Prosecutions (DPP) has told the court he will avail amended charges against the six suspected magistrate attackers in two weeks' time.
Appearing before Grade One Senior Magistrate, Stella Amabilis, at Buganda Road Chief Magistrates' Court in Kampala, the state attorney, Miriam Njuki affirmed.
"Your honor, the DPP is ready and will amend the charges in this particular case but we request for two weeks and the amended charges will be in court on the next hearing date," Njuki said.
Currently, defendants Simon Wanyera, Abdullah Waiswa, Augustine Ojobile, Joel Kabali, Fatuma Abenabyo, and Moses Katumba are facing charges of inciting violence, contempt of court, malicious damage to property and common assault.
They were arrested on August 2 this year following an attack on Grade One Magistrate Gladys Kamasanyu as she was passing an 18 months jail sentence to Dr. Stella Nyanzi over cyber harassment.
However, their lawyer Isaac Ssemakadde entreated court to compel the state to withdraw charges of common assault from some the accused on grounds that six people cannot all throw a bottle to a magistrate as the state alleged in the charges.
"Six people cannot throw a single bottle to a magistrate at the same time as prosecution alleged, so we need the state to specify who did what and who said what," Ssemakadde said.
It should be noted that hearing of this case has delayed, and several adjournments have been made because both the defence and state attorney failed to agree on which charges to drop or uphold against some accused.
Upon this, the trial magistrate intervened and advised the state and accused's counsels to sit as individuals and amicably agree on the charges to be amended.
"I want to hear this case and close the file, but your continuous disagreements have delayed the hearing.
So, I am giving you time to sit and agree amicably on which charges you wish to amend, drop or uphold among the accused," Amabilis advised.
However, the court has now scheduled December 10, 2019, for hearing of the case after the DPP promised to have provided the amended charges then.
"By consent of both counsels on amendment and withdrawal of charges from some accused, I adjourn this case to December 10 for plea and amendment of charges.
The accused bail is hereby extended till then," ruled Amabilis.
The charge
The prosecution alleges that the six accused and others still at large on August 2, 2019, at Buganda Road Court incited court audience to do an act of violence against her worship Gladys Kamasanyu by reason of her office.
The accused also, within the premises of the court in which a judicial proceeding was being heard, showed disrespect in speech manner to reference of the said proceeding and the magistrate presiding by abusing her (Kamasanyu) with obscene words and throwing a bottle of mineral water at the magistrate and making noise in court.
It is also alleged that Kabali, Wanyera, Abenabyo, and others still at large unlawfully damaged or destroyed walk detector machines, the property of Buganda Road Court.
Prosecution adds that Abenabyo on the same date commonly assaulted her worship Kamasanyu an act contrary to section 235 of the Penal Code Act.