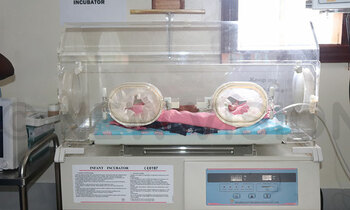 HEALTH
On January 4, 2019, Gabriela, was born weighing just 1kg and measured 12inches long. Because she was delivered 10 weeks early, her eyes were still fused shut. Gabriela fought for every breath, facing daily challenges caused by prematurity, jaundice and a heart murmur.
"Gabriella spent the first 20 weeks of her life in the neonatal intensive care unit in Dabani hospital, fighting for survival. She was given therapy to help her immature lungs inflate between each breath and went on to fight and win all her medical battles that included; anemia, abnormal blood flow from the heart and jaundice," said Susan Anyakuri her mother.
Currently, Gabriela is now a healthy 8 months year-old baby and her mother has all the reasons to smile and live every moment with her.
Gabriela, is one of the over 200 neonates that have been impacted by the neonatal equipment's that have been distributed by World Vision under the Aim Health Plus project with funding from Irish Aid across the three health facilities of Dabani, Masafu and Busia health Centre IV from October 2018 to date.
Barbara Khaiza, a mother notes that she would have lost her baby if it was not for the neonatal incubators that were brought to the facility.
"It's a good gesture to bring services closer to mothers across the district. I gave birth to my daughter at 33 weeks. She spent 7 days in an incubator at Masafu Hospital and I think if that machine was not there, I was going to lose her. She is now 5 months and 3 weeks old," Khiza says.
According to World Vision Aim Health Plus project manager, Richard Businge, the move aims at accelerating the contribution to the reduction of neonatal mortality.
"Through the project, we set up modest neonatal care units, infant incubators and infant radiant warmers across the hospitals and this has helped save lives of the babies," Businge said.
Uganda has made progress in reducing maternal and perinatal mortality. The Uganda Demographic Health Survey (UDHS), 2016 report indicated a decline in Maternal Mortality Ratio (MMR) from 438 in 2011 to 366 per 100,000 live births and Infant Mortality Rate (IMR) from 54 to 43 deaths per 1,000 live births.
"We register 2-3 premature births at Lunyo Health Centre every month and we have been referring them to the neighbor hospitals for specialized care. We shall now be handling them," says Sarah Namukanja, a midwife at Lunyo health Center III.
She explained that they will also be able to manage most cases since they have been trained in Kangaroo mother care method.
To help mothers give birth with dignity, a sh283 million maternity ward has also been constructed at Lunyo healthy facility with funding from Irish Aid.
Also sh125m has been provided to procure equipment to be used.
Locals in Busia also contributed shs 15m towards the construction and equipping of the facility.
Busia district LCV chairperson Godfrey Wandera, applauded World Vision and Irish Aid for the timely intervention in the district.
"I want to appreciate the support being extended to us in form of best health practices especially for the born too soon babies. The health of children will greatly improve and mothers embrace this facility and love your premature babies because they are not a curse," he said.
Mike Okiria, the Resident District Commissioner (RDC) noted that with this intervention the rate of children surviving is high but there is still a lot to be done in the area of sensitization because some people still think such children are a curse.