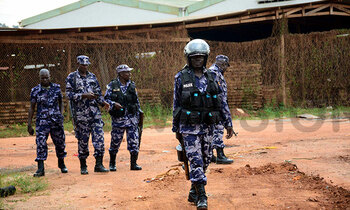 KAMPALA-The police have deployed more forces at Ambitious Construction Company in Kabowa in the outskirts of Kampala city following Tuesday's protest during which the area police boss allegedly shot and injured a protestor who died later in hospital.
According to the police, the victim, David Kibuuka, 34, a community worker and the Local Council Secretary for publicity in Ssembule A zone in Rubaga Division died at Mulago Referral Hospital where the police had rushed him with severe bullet injuries.
The incident followed a protest by a section of residents of Ssembule A zone accusing Ramji Swaminaryan, the owner of Ambitious Construction Company and Shreeji Stationers 2009 (U) Limited for allegedly blocking a road and a drainage channel passing near the factory, which they said had caused serious flooding in the area.
The officer in charge Kironde Police Post, Assistant Superintendent of Police Justus Bwire, arrested in connection to the shooting was still in detention as more forces were deployed to protect the factories.
Kampala Metropolitan Police spokesperson, Patrick Onyango said detectives had returned to the scene and were still writing statements from eye witnesses.
"We are still recording statements from witnesses as we wait for a post morterm report from Mugalo Hospital," he said, adding that the forces deployed were in place to protect the factories and secure the entire area.
Over 15 antiriot police personnel continued to patrol the rather deserted neighbourhoods. This reporter learnt that majority of the residents had gone to Ssekanyonyi village in Mityana for the burial of Kibuuka, who IS survived by two wives and two children.
"It was a nasty experience. When the bullets rung out, I fell down unconscious during the stampede and many of my colleagues feared that two people had been shot, " said one Ssalongo, a boda boda rider who operates near the main factory said
He said he witnessed the saga as it unfolded and saw Bwire losing his patience as residents continued waving placards and branches of trees in front of the factory gate.
"I saw the officer stepping aside twice talking on phone and the third time, he returned and ordered everyone to leave but they did not move. He then cocked his gun and shot. I was standing next to the deceased and later I saw him bleeding while still lying down," he said.
According to Sserunkuuma, on the first attempt to cock the gun, other police officers attempted to restrain him and calmed him down. "I saw that he was so angry and was so impatient although other officers around had tried to restrain him," he explained.
Michael Nambago, the company chief security officer, however said that the company had obtained a leasehold title for 15 acres from Kampala Capital City Authority where they have put a number of factories and still expanding.
He, however, explained that the company has been in the process of compensating squatters and was still yet to clear off 20 families out of 300. He said the company was opposed to demands by residents to create a road through the factory.
"We have accepted to work with the community to drain the channel but there is no road through this land, some people want to force it here," he said