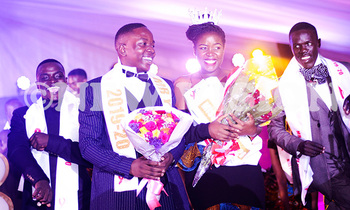 HEALTH HIV/AIDS STIGMA PAGEANT

KAMPALA - Micheal Ssenyonga and Esther Kabasombo were crowned Miss Y+ 2019/2020 after a tight competition that took place in Kampala.

For the last few years, the Y+ beauty pageant has become one of the prized events on the society calendar aimed at fighting against stigma about HIV/AIDS. This year's grand finale took place on Friday, November 22.

The beauty pageant has, over the years, served as a platform to young men and women (16 to 25 years) living with HIV to become voices to the voiceless, pillars of boldness and strength to those still afraid of HIV testing, these young people also share testimonies of assurance that acquiring HIV is not the end of life. Which is not that easy.

If you asked James Ndalise, a youth living with HIV what he regards the most difficult task in the world, he would, with little hesitation, say it is the fight against HIV/AIDS.

However, he stresses that the struggle against HIV/AIDS will never succeed without addressing stigma.

"I have suffered external stigma and I know that it can be more lethal than the virus. After both my parents succumbed to AIDS, my guardians could not stand me because I am HIV-positive.

Ahead of the World Aids Day on December 1, under the theme, 'communities make the difference' in recognition of roles they play in response to HIV and AIDS, Vision Group is covering the subject daily.