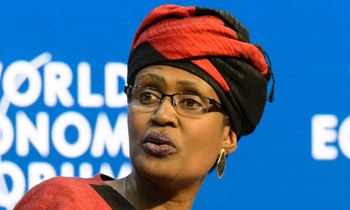 The new executive director of the joint United Nations Programme on HIV/AIDS (UNAIDS), Winnie Byanyima, will launch UNAIDS 2019 World AIDS Day report on Tuesday next week.

UNAIDS communications manager Sophie Barton-Knott told New Vision on Thursday that the Government of Kenya and community organizations will join Winnie in launching the report in Nairobi.

"World AIDS Day is on December 1 and UNAIDS is launching a report which highlights the incredible impact that community organisations have had on the response to HIV since the start of the epidemic," she said.

She explained that the report highlights their ability to effectively deliver HIV services to the most marginalized, the trust they have within their communities and their ability to speak out and challenge rights abuses, inequality and stigma.

"It also highlights the many difficulties currently facing community organizations including crackdowns, restrictions on groups and campaigns."

Winnie ascends UNAIDS leadership when Uganda has already achieved its HIV tipping point, new infections are dropping to 50,000 a year, HIV-related deaths are decreasing to 25,000 and about 75% of people who need ARVs are getting them.

Researchers here say the biggest problems in Uganda's HIV fight are: HIV funding, corruption within the HIV ecosystem, fear of complacency and lack of care for minority populations.

They also say donors no longer give Uganda money for drugs; they insist on giving them drugs because of corruption.