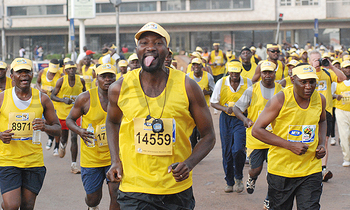 On this day, 10 years ago, the MTN Marathon marked six years and attracted a cool 15,000 runners. It was a special mark for an event that had started in 2004 with just 1,500 runners.
This year's edition could see the number of participants reach 30,000 - already the kit has sold out - as you can be sure of a last-minute rush of entrants from the 11th-hour citizenry.
The 2009 42km race was won by Jane Wandahi and David Mutai in the women and men's category respectively.
It rained heavily on the morning of the 2009 race but that would not stop the thousands from taking part in the edition that saw proceeds donated to the Uganda Red Cross.
As usual, the race was all about the ordinary runner, who was in it for fun, health or competitive goals, among other reasons.
It was, as usual, an eventful affair with countless sights. Some of the best moments captured on camera follow in the pictorial below.