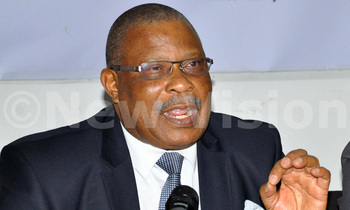 DEATH

KAMPALA - The chairperson of the Uganda Human Rights Commission (UHRC), Med Ssozi Kaggwa, has died after reportedly collapsing on his way to work Wednesday morning.

Reports indicate that Kaggwa fainted on his way to work inside his car around the Mulago round-about in Kampala.

Attempts to resuscitate him proved futile as he was pronounced dead at Case Clinic along Buganda Road.

Only Tuesday, he took part in a mock exercise ahead of today's 30th anniversary of the UN Convention on the Rights of the Child, to which Uganda is a signatory.

He had Mastula Nassaka occupy his seat as chair of the commission after she was given the opportunity to make decisions in running the office at the agency's headquarters in Kampala.

Below is the picture taken by New Vision photojournalist Francis Emorut during the mock exercise.


Tributes continue to flow for Kaggwa, who had been scheduled to attend the national function commemorating the rights of children in Kampala.


Rest in peace Medie Kagwa, for your works and efforts will never be forgotten

— SSOZI GEORGE WILLIAM (@SsoziWilliam) November 20, 2019

Prior to becoming UHRC chairperson, Kaggwa served as East African Legislative Assembly (EALA) MP for two terms. He also served as Kawempe South MP and the minister for the Presidency.


He initially served on the then Justice Benjamin Odoki-led Constitutional Review Commission that gathered nationwide views and drafted the now amended 1995 Constitution.

Kaggwa afterwards became a Constituent Assembly delegate - participating in the promulgation of the same constitution that established UHRC, before being voted Kawempe South constituency MP to the 6th Parliament.

He held a Master of Laws degree from National University of Ireland, a Diploma in Legal Practice from Law Development Centre (LDC) and a Bachelor of Laws degree from Makerere University.

He was a skilled and conscientious legal practitioner with nearly 30 years in the promotion of constitutionalism, good governance, rule of law and respect for human rights.