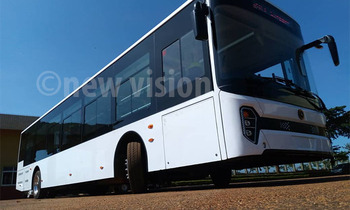 The new Kayoola electric buses dubbed Kayoola EVS were on Saturday morning assembled for media people, lawyers, insurers, army and other stakeholders.

This was at Luweero Industries Limited, in Nakasongola, an industry which is part of National Enterprise Corporation under the Ministry of defence and veteran affairs.


The buses were designed by Ugandan engineers from Kiira Motors Corporation after the government of Uganda signed a memorandum of understanding with a Chinese automobile company.

The Ugandan Engineers were sent to study more on the new technology in electric vehicles. This saw the building of the buses in China with the help of Chinese engineers for technology tractor.



The Kayoola EVS' are able to transport 90 passengers, 49 sitting and 41 standing.

Under one single charge, the Kayoola EVS can run for 300km. The buses will be piloted on Kampala-Entebbe road through the Eco-bus project under Kampala Capital City Authority.