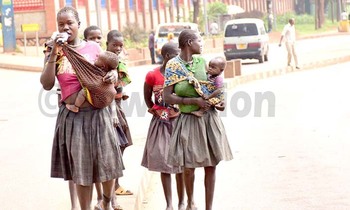 STREET CHILDREN

Kampala Capital City Authority (KCCA) to repatriate the Karimojong in Kisenyi and Katwe back to their districts by December.

This was agreed upon after several meetings convened by KCCA, the Ministry of Gender and the district leaders of Napak.

The KCCA Deputy Director Gender and community services Josephine Lubwana said the meetings were organised to quicken the process of eliminating street children on Kampala streets.

Lubwana said most children were brought to Kampala from Napak and live in a sorry state in the slums of Katwe and Kisenyi.

"We are going to move them from the dilapidated structures and return them to their homes in Napak. KCCA will provide transport," she said

The Resident City Commissioner Makindye Division Ibrahim Kagolola said they are following up on the Government directive to take back the Karimojong back to their home.

He said that the government is going to provide them transport to return them home.

The Chairperson Napak District Joseph Lomonyang said all the illegal structures were the Karimojong have been residing will be brought down by January.

"We have proposed up to December to have all of them taken back," He said adding that they were coming up with an ordinance where parents will be arrested once found bringing children to Kampala.

In August this year, KCCA organised a meeting that was intended to forge a way to resettle street children. The meeting was attended by Members of Parliament from Napak district.

In the meeting, it was resolved that the Karimojong should be repatriated back to Napak by December.