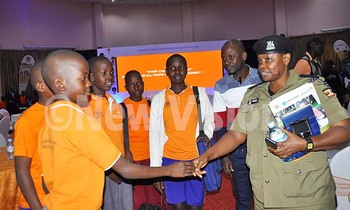 CHILDREN RIGHTS

Children hailing from different parts of the country have decried injustices they suffer and tasked Government for protection.

At an event to mark 30 years of United Nations Convention on the Rights of a Child (UNCRC) in Kampala, the children reminded the state agencies like police and non-state actors of the serious crimes they still face.

The abuses according to the children range from child sacrifice, neglect, corporal punishment, lack of medical care, denied education, food, rape and defilement which result in early pregnancies, among others.

Ezra Yiga, from Busia district, said there is a need for a strict legal framework to protect the rights of children.

"Children need protection from the youth who are drug addicts, parents who sexually molest their children, corporal punishment and human sacrifice," he said.

Yiga said it is hard for children to report injustices they suffer to police since they do not have money to pay kickbacks.

"Some of the police officers connive with our tormentors to deny us justice because there is no money we can or our parents give them," he added.

Maria Gorret Naziwa, a member of children's national parliament, said that the government needs to act strongly in both policy and enforcement to deal with violations of children's rights

Harold Jjingo, said several children are not yet able to access good quality education despite universal education policies such as; universal primary and secondary education.

"Government should provide teachers' quarters and instructional materials, as parents provide lunch to enable us to study well," Yiga said.

Marion Kutuusa, the acting commissioner child and family protection directorate of police, admitted that there was still a knowledge and skills gap in both police and government structures of leadership on the rights of children.

She, however, said that many structures have been established in the different government institutions as part of the domestication of the UN convention on the rights of a child.

"As police, we help children to realize their rights by dealing with perpetrators, guidance, and counseling and through internal and external networking," she said.

The annual crime report 2018 revealed 11589 child-related crime cases. This according to Kutuusa there was a reduction of crimes against children from 13,505 in 2017.

The Bishop of Mukono Diocese, James Ssebagala, called on the parents to produce children they can manage to look after. "There is a need for controlled birth, we should produce children we can take care of," he said.

"Resources meant for children programmes do not reach them," Ssebagala remarked as he condemned people who swindle the resources meant from the children's wellbeing.

The policy and campaigns officer at World Vision, Diana Tibesigwa, said they are working with the Buganda Kingdom and other institutions to deal with cultural practices that undermine the rights of children.

She said they have already signed a memorandum of understanding (MOU) with the Buganda Kingdom to promote children's rights.

Fred Ngabirano, the commissioner in charge of child affairs at the gender ministry, commended the children for voicing out their concerns promising that the government will address them.

He said despite challenges such as underfunding, the government was implementing arrangements to address the challenge of street children and child trafficking.