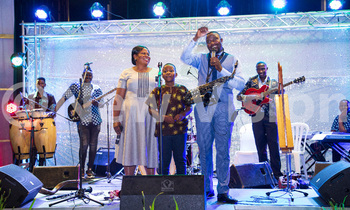 Kitego doing his thing at House of Rest on Kampala Road, Kampala. Photos by Samuel Lutwama
GOSPEL KITEGO WORSHIP KAMPALA
With the sound of musical instruments blaring in the beautiful auditorium, the voice of the Patrick Cyrus Kitego and back-up singer trumpeted out in a live Psalms, hymns and spiritual songs concert at House of Rest (formerly Fido-Fido).

It was meant to be a concert in a literal sense, but it turned out to be a concerted performance where exuberant people from different churches, young and old, danced and merrily worshiped God in Psalms, hymns and spiritual songs.

A variety of songs mostly from his first album that was launched eight years ago had familiar worship tunes that were served with a live spirited performance.

Kitego played the saxophone with swag and a combination of footwork. He performed from his musical track, primary on the trumpet.

It has been eight years since he last launched his maiden album. He says it has been a time of waiting on the Lord for the new direction.

Kitego heads Tabernacle of David Prayer and Worship Centre, in Kampala.

"The energy I get while leading people into worship and praising is rejuvenating and fulfilling.

"After my presentation, I feel fulfilled," he says. Kitego has ministered at Christian gatherings, conferences and church seminars.

Kitego sings along with his twin brother; Sam Kitego and the two started singing in the Sunday school choir. The gifted trumpeter is married to Yvonne Kizza.

Growing up, he would sound musical sounds out of discarded old tins, but it was during his primary school at Buganda Road Primary School that his passion was honed. For the first time, he leant how to play the drums, saxophone, and fiddle.

Years later when he became born-again, he started pursuing his musical craft.

The use of hymns as a form of worship in some Pentecostal circles, he feels is not fully embraced and yet it's one of the main streams according to the Bible.

"When I look in the bible the first form of deliverance happened when David played the harp when King Saul was battling with evil spirit and was instantly delivered. In my personal experience, whenever I blow and play the trumpet or saxophone evil spirits being cast out."