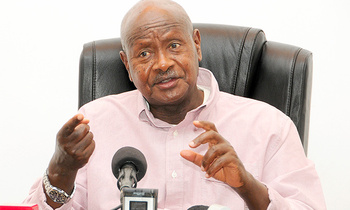 President Yoweri Museveni. PPU
The Police Director of Political Commissariat, Asan Kasingye has asked court to dismiss with costs a case in which a Ugandan student at Harvard University sued him for blocking him on twitter.

In August this year, Hillary Innocent Taylor Seguya sued the Attorney General for allegedly being on twitter by Kasingye, President Yoweri Museveni and the government spokesperson Ofwono Opondo.

According to Seguya, he was on July 30, 2019, blocked by the president from following, viewing, contacting, replying, liking, tagging and retweeting the tweets on his handle without notice and/or affording the applicant a hearing.

Opondo is said to have blocked Seguya on August 8 while Kasingye blocked him on July 20.

Seguya says that their actions infringe on his freedom from discrimination, thought, conscience and belief guaranteed under Article 29 of the Constitution.

Kasingye, however, in his reply to case says that he opened his twitter account in April 2015 as a personal account for private interest and on his own volition.

"My account is for personal/private interest such as family, football, religion, sharing jokes and at times, police related matters but at a personal level like any other Ugandan citizen," Kasingye contends.

Kasingye also denies using his twitter handle to disseminate information relating to the activities of his office despite the fact that his profile stresses his view.

"My views are not necessarily those of the Uganda Police Force and they are not the official position of it," says Kasingye.
Police Director of Political Commissariat, Asan Kasingye. File Photo
Kasingye has advised Seguya to use both Police and Uganda Media Centre twitter and Facebook accounts to access the information he wants.

Kasingye also says that Seguya can obtain information relating to the president through State House twitter and Facebook accounts and other media twitter handles.

According to Kasingye there is no law in Uganda that require anyone to give Seguya notice and hearing before blocking him from viewing his personal twitter account.

"I can choose to activate or deactivate my account, log on and out, select who to follow to be followed, comment on any topic or not for as long as I do it within the ambit of the law," Kasingye said.

Kasingye says that their decision to block Seguya from his twitter account does not amount to political persecution.

Kasingye says that Seguya's case is misconceived, frivolous, devoid of any merit and amount to an abuse of court process and should be struck out.

In his case, Seguya wants a declaration that the decision by the President to block him from accessing his Twitter account infringes on his right against discrimination guaranteed under Articles 21, 29, 38, 41, 42 and 43 of the Constitution.

Through his agent Hassan Male Mabirizi, Seguya also wants a permanent injunction restraining government spokesperson Ofwono Opondo and the Police Director of Political Commissariat, Asan Kasingye, from blocking him on their Twitter handles.
He contends that the trio's twitter accounts are used as public forums to disseminate information relating to the activities of their public offices in their official capacities and to get feedback from citizens.

"As a Ugandan citizen living abroad, I am only capable of getting information relating to his country's governance and to communicate to the respective officers including the President through their respective Twitter handles," Seguya contends.

Seguya says it is only fair, equitable in line with promotion of accountability in public offices, transparency and protection of the right to fair hearing and other fundamental freedoms that the application is allowed..
Recently, US president Donald Trump was sued over blocking American citizens on Twitter in a case he ultimately lost.
Court found that his Twitter account is a public forum and that he cannot block his critics from reading his tweets or participating in the forum because he merely dislikes them or their ideas.