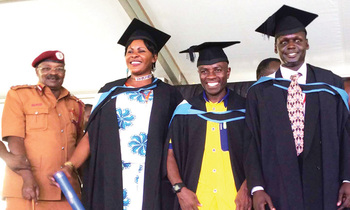 PRISON STUDIES DEATHROW GRADUATE
"I have forgotten my release form, won't I be arrested?" Pascal Kakuru asked his wife, Annette Twinomugisha, the day he came out of prison.
To understand his fears, you need to consider that Kakuru had been in prison for 14 years, where he was used to moving under the watchful eyes of prison warders.

His wife reassured him that he was no longer a prisoner. He was arrested on May 3, 2005, when he, together with a colleague, visited one of the local bars for fun. Kakuru, a 28-year-old police officer at the time, got so drunk that when a bouncer threw him out of the bar during a heated argument, he reached out for his gun and fired at him.

The bouncer was rushed to a nearby hospital, but it was too late to save his life. Kakuru was arrested and locked up at Kasese police station, before being arraigned in Lukoki Chief Magistrate's court, Kasese district.

He was then remanded to Mubuku prison, then Fort Portal prison, before being transferred to Luzira Maximum Security prison. On December 21, 2007, Justice Albert Rugadya Atwooki sentenced him to death.

"I remember the silence in the courtroom. I still remember the judge breaking his red pen. I was denied a chance to speak to my wife and friends. They handcuffed me and led me back to the prison van, where I watched my wife break down. It was after the van left the court premises that it sunk into my mind that I had been sentenced to death," Kakuru says.


On death row
Kakuru was transferred to Luzira Maximum Security Prison's condemned section, a wing that accommodates death row inmates. "I failed to sleep on my first night. I kept thinking about my children. I wondered what would befall them if the hangman one day showed up and called: "Inmate U500, let us go," Kakuru said.

But, instead of wallowing in self-pity, Kakuru got excited by the free education he found in prison. He realised that even with a death sentence hanging over his head, he could continue with formal education while serving his jail term.

Kakuru had hoped to become an engineer, studying physics, chemistry, and mathematics at A'level, but he dropped out of school because his father could not afford fees.

Unfortunately, the education system in prison did not favour the science syllabus. So, he started studying history, economics, divinity, and entrepreneurship. He sat for his A' level exams in 2009 and scored 21 points.

The law course
None of the public universities offered an undergraduate degree programme for inmates. Makerere University Business School, however, offers a diploma and certificate programme for inmates in entrepreneurship and small-scale business management.

In 2012, Kakuru enrolled for this two-year diploma, which he completed with first-class honours, with a CGPA of 4.76. In 2015, he was among the 15 inmates from Luzira, who applied and were admitted to the University of London to pursue a bachelor of laws degree, sponsored by the African Prisons Project.

It was correspondence and the project was able to bring them tutors to teach and guide them in their studies inside Luzira prison. The Prison environment was not conducive for studies since regulations require that lights are put out by 10:00 pm. So, Kakuru says, the only place he could read from at night was the toilet.

"Inmates are restricted from moving out after lock-up, of which lights are turned off by 10:00 pm, except for those in the toilet. So that is where I would revise from since it was the only place where lights were left on throughout the night," Kakuru says.

Formidable team
The other inmates who studied the law course were Susan Kigula and Moses Ekwam. They graduated with a diploma in the law of the University of London. Ekwam was left with four years and 11 months to his sentence when his conviction was overturned and was released.

It was due to this achievement that he was reinstated into the Uganda People's Defence Forces, where he now serves. Kigula had spent 16 years on death row, having been sentenced at the age of 21. She was arrested on July 9, 2000 and remanded to Luzira Prison for killing her husband, Constantine Sseremba.

In September 2002, the court found her guilty of the offence and sentenced her to death by hanging. Kigula went on to become the first inmate in the history of Uganda to receive a bachelor's degree in Common Law behind bars.

She then challenged Uganda's mandatory death sentence as the lead petitioner in the landmark case; "Susan Kigula and 417 Others vs Attorney General". On January 21, 2009, the Supreme Court of Uganda threw out the petition, saying there was not sufficient evidence to show that being hanged caused more pain and suffering to the person being executed than any other manner of execution.

In spite of that loss, the petition caused a review of several court rulings, which would eventually lead to changes in the death sentence. First, the court ruled that the death sentence should no longer be mandatory. Then, it also ruled that the State cannot torture condemned prisoners by keeping them on death row for years.

Therefore, a death row inmate, who is not executed within three years, has to be commuted to life imprisonment. Thus, Kigula, who had spent nine years in prison, escaped the hangman's noose in November 2011, when High Court reduced her sentence to 20 years' imprisonment. She was released in 2016.

Having served his prison sentence, Kakuru was released early this year. He is currently resettled at his home in Seeta, although he is still unemployed. However, he is sometimes appointed by African Prison's Project to give motivational speeches to inmates who are still serving their sentences.
According to Karen Saidi, a lecturer with the African Prisons Project of the University of London Law programme, prison teaching is interactive and in form of discussions since the students are mature people, who have an independent mindset.
The programme is a long-distance course, implying it is mostly about research. But due to the restricted environment of inmates, lecturers are required to do the research for them.
However, Frank Baine, the prison's publicist, says the current employment act restricts a former convict or person with a criminal record from practicing law or holding a public office.
"Much as Prisons is mandated to ensure that inmates reform from criminality to civility, it is unfortunate that ex-convicts, who attain bachelors of law, can only be advocates, but cannot represent clients within Uganda's courts of law," he said.