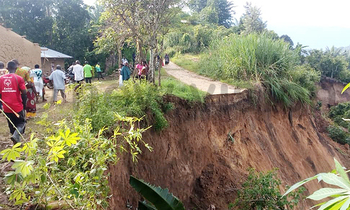 ROLLING NEWS THROUGHOUT THE DAY

(Scroll down the page for updates)
_____________________________
16:40 pm | Curtains
That'll be all from us today but don't forget to check out our selection of today's news in pictures.
Lets do this again tomorrow.
_____________________________
16:22 pm | From death row to law graduate
Instead of wallowing in self-pity after he was found guilty of murder and sentenced to die, Pascal Kakuru has gone on to become a law graduate. Read all about his incredible story HERE.
_____________________________
16:15 pm | FDC mulls legal action against Police
The Forum for Democratic Change (FDC) party is mulling taking legal action against Police officers who they say brutalised their members last week.
The party spokesperson, Ibrahim Semujju said the party is to hold an emergency national executive committee session on Friday to pave the way forward.
The meeting will comprise of 86 top party leaders chaired by the party president Patrick Oboi Amuriat.
Semujju said the meeting follows the confrontation between the Police and party founder Dr Kizza Besigye as well as other party members last week.
"Police nearly killed Col. Besigye while dispersing FDC's lawful seminar at Mandela National Stadium on November 4," he said.
"We wrote to the Inspector General of Police on October 14 informing him about the plans more than two weeks before the seminar. We paid Namboole Stadium and other service providers," he explained.
_____________________________
15:58 pm | Absa formalises change from Barclays
Absa Uganda officially received its banking licence from Bank of Uganda (BOU) on Monday following the rebranding of the commercial bank from Barclays.
The licence was handed to Absa officials by Dr Louis Kasekende, the Bank of Uganda Deputy Governor in Kampala.
In recent months, all branches of Absa Uganda have been undergoing rebranding from the blue of Barclays to the red of Absa including a new logo.
Barclays Africa businesses in Uganda, Kenya, Ghana, Mauritius, Mozambique, Seychelles, Tanzania and Zambia, will have to change to a new identity by 2020.
_____________________________
15:26 pm | Students barred from sitting UACE exams
On November 29, boxer Shafik Kiwanuka returns to the ring in his third professional fight and he has promised yet another knock-out, having knocked out two earlier opponents.

Kiwanuka, who takes on Zimbabwe's Thamsanqa in a 12-round battle for the vacant World Boxing Federation Africa title, has been his usual bold self as far as his intentions go.

"Another opponent is about to fall. It is not by mistake that I am called Killing Machine," stated the heavyweight at the International University of East Africa.

_____________________________
15:03 pm | Students barred from sitting UACE exams
A total of 15 S6 candidates at Top Care Secondary School in Iganga Municipality missed out on UACE exams and at least 30 others remain in suspense after the school administration blocked them over failure to clear fees balances.
The tearful students who were owed between sh30,000 and sh200,000 were denied access to the examination rooms by the school bursar Paul Mpongo.
The students went to the Police, the Resident District Commissioner LC5 chairperson, the district inspector of schools to intervene but all in vain.
The authorities rushed to the school to come to the students' rescue but the teachers led by the headteacher Umar Bambali said that they had no powers to allow the victims sit for the exams, saying that only Mpongo could allow them to enter the examination room.
By press time, 30 other candidates meant to sit for the afternoon exams but had outstanding arrears were left unsure.
_____________________________
14:35 pm | Makerere University fees to triple
Private students planning to join Makerere University next academic year maybe be forced to pay higher tuition fees in order to make the institution more competitive both nationally and in the region.

President Yoweri Museveni directed the Makerere University administration to compare the University's tuition fees structure with that of other public universities within the country and also within the East African region and come up with a reasonable tuition policy.
_____________________________
14:12 pm | Students sit afternoon UACE exams
Having sat History 3&4 and Mathematics 1 exams on Monday morning, S6 students returned to the exam rooms in the afternoon to sit for History 1&2 and Mathematics 2.
_____________________________
13:45 pm | UCU ends University Football League hoodoo
Missed Sunday's University Football League final where Uganda Christian University claimed its first title following a 2-1 triumph over St Lawrence University? Check out our brilliant photo gallery from the match that was played in Lugogo.
_____________________________
13:22 pm | Suez Canal at 150
If you can recall your geography lessons, the Suez Canal is not something new. This week, the sea-level waterway in Egypt, connecting the Mediterranean Sea to the Red Sea through the Isthmus of Suez marks 150 years since its official opening. Read all about what is widely regarded as one of humanity's greatest engineering feats
HERE
.
_____________________________
13:08 pm | UACE exams underway
Uganda Advanced Certificate of Education exams kicked off all over the country with History and Mathematics on Monday morning and for the next weeks, over 100,000 students are scheduled to sit exams in 1,982 centres up from 1,815 in 2018.
Candidature has also increased by 4.8 per cent from 99,672 in 2018 to 104,481.
_____________________________
12:35 pm | Rev. Benjamin Ojwang passes on
The former Bishop of the Diocese of Kitgum, Rev. Benjamin Ojwang has passed away at Kiruddu Hospital in Kampala at about 11:00 am on Monday.
Ojwang's health had been deteriorating since his retirement in 2017 and he had been recovering from a stroke he suffered in September last year that affected his movement and speech.
He was installed as the second Bishop of Kitgum Diocese in 2002 replacing McLeod Baker Ochola.
_____________________________
12:13 pm | Rakai school fire anniversary
Today marks exactly one year since 10 students died in a dormitory fire at St. Bernard's Manya Secondary School in Kifamba sub-county.

Unknown arsonists sneaked in and torched the Senior Three dormitory before locking the dormitory doors with a padlock to ensure none of over 60 occupants, escaped from the burning dorm.

At least 37 students were severely wounded in the inferno and others escaped with minor injuries while scholastic items worth millions of shillings were destroyed.
Read all about the extensive investigations, the suspects in the ongoing court case and how the dormitory has risen from the ashes HERE.
_____________________________
11:46 am | Odongo meets Odongo
Kate Mirembe a pupil of Hope Nursery & Primary School in Namayingo district who delivered 30 minutes before she sat for her Primary Leaving Examinations started on Monday morning met the Uganda National Examinations Board executive secretary, Dan Odongo.
Mirembe who says she wants to become a medical doctor, named her child Daniel Odongo Jr.
Odongo commended her for the courage she exhibited and her love for her studies which pushed her to sit for the examinations shortly after delivery.
_____________________________
11:29 am | Today's Ras Toon
South Sudan President Salva Kiir and rebel chief Riek Machar have agreed to delay the peace deal by 100 days.
_____________________________


11:08 am | Kadaga advocates tree planting
The Speaker of Parliament, Rebecca Kadaga, has advocated for tree planting at every public or social gathering as a way of mitigating the adverse effects of climate change.
Making reference to the Commonwealth Parliamentary Conference that took place in September 2019 in Kampala, which was attended by over 800 delegates from 43 Commonwealth countries, Kadaga said they used the occasion to plant trees in four regions of Uganda.
Kadaga was speaking at a parallel session on the subject of global warming and climate change and the 2030 Agenda for Sustainable Development during the 20th International Conference of Chief Justices of the World, taking place in Lucknow, India, on Sunday.
She went on to add that as a practice, in her constituency, at every marriage, baptism, graduation or public ceremony, trees are planted so as to add to the forest cover. She said being a host country for refugees has exacerbated the problem because refugees cut trees for cooking but that efforts are being taken with the UNHCR to address the matter.
_____________________________


10:55 am | Landslides hit Bundibugyo
Business and transport on Monday morning came to a standstill after landslides cut off the road connecting Bundinyama Trading Centre to Bundibugyo town in Hakitengya.
The landslide that started on Sunday evening has since spread, consuming large parts of Kitengya village.
_____________________________


10:41 am | Today's dose of motivation

Action is a great restorer and builder of confidence. Inaction is not only the result, but the cause, of fear. Perhaps the action you take will be successful; perhaps different action or adjustments will have to follow. But any action is better than no action at all.
Norman Vincent Peale

_____________________________


10:30 am | Good morning

Good morning everyone. Glad you could join us again as we wade through a wet Monday morning.