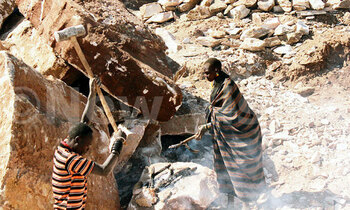 Mining companies are facing financial and operational challenges following a Uganda Revenue Authority notice to stop the export of unprocessed mineral ores.
The seven-month long-running ban has hit companies with export permits causing them to pile up their stocks in stores. It has also encircled companies adding value to mineral ores.
Dicksons Kateshumbwa, commissioner customs Uganda Revenue Authority also the chairperson of the World Customs Organisation in a letter dated February 12, 2019 to all URA customs staff, directed them not to allow through any customs points exports of unprocessed mineral ores.
Kateshumbwa said in 2011 President Yoweri Museveni directed the ministry of Energy and Mineral Development to ban the export of unprocessed minerals.
"This is to request you enforce this directive and ensure that no export of unprocessed minerals originate from Uganda whether exporters have licenses or not," Kateshumbwa stated.
According to Ikrom Muminov, operations manager, 3T Mining Ltd, a company mining tantalite in Namayumba sub-county in Wakiso district they received the notice from URA blocking exports despite the fact that they were making value addition on tantalite ore from 0.05% through processing to 15-25% levels.
Muminov added that for tantalite value addition at the moment cannot exceed 25% otherwise it becomes expensive to sell. He said minerals like tantalite value addition is done to produce concentrates or by-products. He said buyers mix it with steel to produce capacitors, high-end electronic equipment including mobile phones and computers.
"We are laying off some workers; we can't meet all expenses including salaries. We cannot fulfill contracts to suppliers, we are at risk of not paying bank loans," he said.
3T Mining Ltd begun tantalite exploration in 2012 and employs over 50 people. They then got a 21-year mining lease and have been producing five tonnes of tantalite monthly. They are exported to China.
The company has invested over $10m (sh36.6b) to date in the mining project. He said the current refusal to issue export permits amounts to a ban on the export of materials similar to a ban imposed a few years ago.
"Not all minerals are the same, 100% value addition cannot be done in Uganda because of lack of infrastructure. Tantalite requires large smelting plants and value addition is a complicated process," Muminov said.
He said good investors in the mining sector are losing out and the current ban might discourage others to invest in the sector.
Dr Elly Karuhanga, President Uganda Chamber of Mines and Petroleum in a letter to the Principal Private Secretary of Museveni stated that in a Presidential Investors Round Table Meeting on August 19, 2015, in his closing remarks, Museveni promised to partially lift the ban to allow for the export of some of the minerals with the exception of iron ore and copper.
"Unlike the Presidential ban which was a written directive, the lifting of the same has to date not been put in writing. This has become difficult for authorities in charge of clearing mineral exports to execute the same," Karuhanga stated.
Adding: "This is, therefore, to request your office to fast track the written partial lifting of the ban on export of minerals to streamline operations in the mineral sector." Sources said the private secretary could not act on the letter because it was from the private sector and not a government official.
However, Zackary Baguma, director at the Directorate Geological Survey and Mines department, Ministry of Energy and Mineral development said they were waiting for a written communication from the President and legal interpretation on the ban on export of unprocessed ores.
Baguma noted that URA blocked the exports because there was no written directive on the lifting of the ban.
"We are losing revenues from exports because there are no exports. For now the mining companies have to wait as we resolve the matter," Baguma explained.
John Wambi, a financial controller at KI3R Minerals Ltd, a company mining wolfram in Kabale district said they were doing value addition up to 66%. The company has been exporting the processed ores to China and USA and has been affected by the ban.
Wolfram is used for making electric filaments, armor-piercing ammunition, as well as hard tungsten carbide machine tools (hard cutting tool material).
Fidel Kagame, executive director 3T Mining Ltd said mining has plenty of benefits for Uganda and that public awareness of role of mining was very important. Kagame said 3T was undertaking open cast mining with minimum impact on the environment. He said the mine site has rich deposits of tantalite and more studies are being done in the area to discover more deposits.
"We have many employees from the community. You save extra costs on housing when you employ people from the community. We have a few skillful people from districts such as Tororo," Kagame said.
Peter Lokeris, state minister for minerals has written to the Department of Geological and Mines informing them that mining companies that were involved in value addition and employing Ugandans should be allowed to export minerals, given their important contribution to employment and revenue creation
Parliament recently passed a resolution asking Prime Minister Dr. Ruhakana Rugunda to clarify Government's position on the ban which they said was increasing poverty in Uganda. Rugunda is set to chair a preparatory meeting next week ahead of the Presidential Investors Round Table meeting. The meeting is expected to discuss the ban and the status of the mining laws.
The total value of minerals produced in Uganda in 2017/18 was recorded at sh158b while the non -tax revenues were sh13b. While in 2015/16 the total value stood at sh99b while the non-tax revenues stood at sh6.9b. The figures are expected to decline following the ban.
Uganda has about 770 mineral licenses and certificates that are operational. Out of these, there are 140 prospecting licenses, 426 exploration licenses, one retention license, 39 location licenses, 40 mining leases, and 124 mineral dealers' licenses