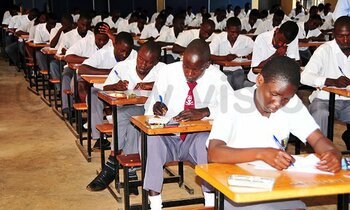 EDUCATION

KAMPALA - Educationists at Makerere University's College of Education and External studies have implored the government to review the education system for improved quality of education in the country.

According to the academicians, there are gaps in the school curriculum, quality of teachers; Pedagogy, infrastructure, and participation of stakeholders such as parents which they said need to be addressed for quality education.

As a country, we still have a lot to do, at primary level we still have people who come out of school lacking some skills, at secondary the same, at tertiary level like high institutions of learning we still have some of these people who have graduated but they are seeking for jobs, they are not job creators," Dr. Tom Balojja a, at the College of Education and External Studies, Makerere University said.

He made the remarks during a briefing on the forthcoming memorial lecture for former educationist Prof. William Senteza Kajubi, which is scheduled to take place on November 14th at Makerere University.

Prof. Senteza, who died in 2012, is remembered for contributing significantly to the shaping of the education system in Uganda through the advocacy of his theory of education, policy formulation and leadership.

To remember the deceased, Makerere University's college of education, in 2015 launched annual memorial lectures in honor of the professor, for his contribution towards the education sector in Uganda.

According to Dr. Balojja, the chairperson organizing committee, Prof. Senteza memorial lecture, this years' theme for the lecture, will focus on the quality of education in Uganda.

"We are thankful to Senteza Kajubi because he introduced many avenues which we need to expound on and see how we can work to take it to another level," he said.

Professor Fred Masagazi Masaazi, the Principal of the College of Education and External Studies, said during the memorial lecture, experts on education will present papers for discussion, on how best Uganda's education system, can be turned around for improved quality education.

He noted that there are issues such as the quality and number of teachers, infrastructure, classrooms, and distance students take to access education, which he said all affect the quality of education.

"The provision of education must be of quality, the teachers who are responsible must be of quality and teacher training institutions must be of quality," he said.

The professor noted that the Senteza Kajubi lecture will act as a platform for discussion on how best Uganda can achieve quality education.

Rev. Dr. Canon John Ssenyonyi, the Vice-Chancellor Uganda Christian University (UCU) an expert on education, will according to Professor Masagazi, be the keynote speaker for this year's Senteza kajubi memorial lecture.

He will deliver a paper on the quality of education in Uganda, which will be discussed during the lecture, by the stakeholders.

"This is a very important aspect if we want to move the quality of education because without having the quality and good education outcomes you cannot have a good education system," Prof. Masagazi said.

About 500 people are expected to attend the lecture, where John Chrysestom Muyingo, the minister of state for education in charge of higher education, is expected to be the guest of honor.