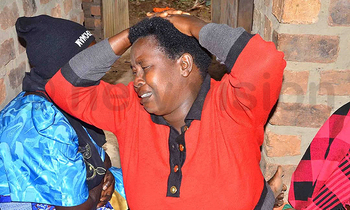 Scribes decry Police brutality
Journalists under their umbrella have called on the Police to come out and explain why they are targeting scribes while they are performing their duties.
The scribes under the Uganda Journalists Association and Uganda Parliament Press Association announced during a press briefing in Kawempe that unless their grievances are addressed, they will boycott Police activities among other things. They also plan to deliver a petition to Parliament on the issue.
Residents search for missing child
Residents of Kabumbi-Katooke have stepped up the search for 4-yr-old Rayan Kakooza who went missing on Tuesday at around 11:00 am when he went to relieve himself.
Kakooza's family aided by residents on Friday combed the bushes in the area for clues as they worry that the child could be a victim of child sacrifice.
Emmanuel Kaweesi revealed that a missing person's case was filed at Nansana Police Station vide SD Ref: 69/05/11/2019 and called on members of the pubic to help volunteer any information that may lead to finding Kakooza.
3X3 Basketball
Uganda is hosts the FIBA Africa 3X3 Cup for the first time in the nation's history and on Monday morning, the action got underway in Lugogo where 12 of Africa's best teams in the shortened version of basketball took to the court.
Trader murdered
Robert Kawungeezi, 38, a trader in foodstuffs from Nsambwe, Kyegonza in Gomba district was murdered by his employee who also stole sh6m before he was tracked down by a mob and hacked to death.
The employee only known as Bujingo attacked Kawungeezi after he had sold a large consignment of maize and cut his head off before making off with the money.
UNBS seizes banned Kenyan products
Uganda National Bureau of Standards surveillance officers on Friday seized seven peanut butter products made in Kenya and found on many shelves in Uganda supermarkets because they that they contain a high level of cancer-causing aflatoxin.
The products included Nuteez, Zesta, Nutty by Nature, True Nuts, Supa Meal, Sue's Naturals and Fressy.
The seven products were also suspended in Kenya this week after tests by Kenya Bureau of Standards.
Soroti University officials charged
Four Soroti University officials were on Friday charged and remanded to Luzira Prison over alleged abuse of office, embezzlement, causing financial loss and conspiracy to defraud the government.
The officials — Sam Omoding (secretary), Gilbert Otim (bursar), James Odongo (internal auditor) and David Omeke (estates officer) — were netted in an operation mounted in the Teso sub-region last month by the State House Anti-Corruption Unit.