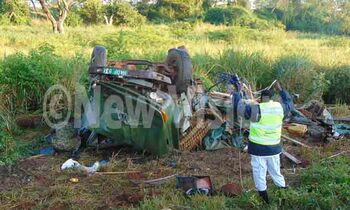 ACCIDENT

KIRYANDONGO - Six people were killed and 22 others seriously injured, in a Saturday morning accident on the Kampala Gulu highway, involving three vehicles.

The accident occurred at around 2 am at Cuny-Odyek swamp in Diima parish Mutunda sub-county Kiryandongo district. It involved a Koboko bound KK Traveler bus, Nile star coach and a Uganda People's Defence Force (UPDF) Lorry.

The dead reportedly includes two UPDF soldiers. The injured were rushed to Kiryandongo hospital.

Reports indicate that a speeding KK Travelers bus registration number UAN 901J heading to Koboko from Kampala tried to overtake the army lorry registration number H4 DF 831 lorry but rammed into an oncoming Nile star coach registration number UBF 621T and overturned several times.

The driver of the KK Traveler bus identified as Aumed Jumba died on arrival at Kiryandongo hospital where he was rushed together with other injured passengers. The driver of the army lorry is also said to be among the dead.

The regional Police Spokesperson for the Albertine region, Allan Julius Hakiza said he was yet to get details about the victims and how the accident occurred.

The KK Traveler bus overturned and rolled 90 metres from the point of the accident and army truck is damaged beyond repair.

Traffic police have described the accident as reckless driving and over-speeding at night

Army spokesperson, Brig Richard Karemire said he got a report of the accident where their driver died and others sustained injuries but said he had no other details. He sent his condolences to the bereaved families.

"Am sure the police should be able to investigate what happened," he said on phone.

KK Traveler company buses have been involved in several road accidents in the past years.

In November last year, a KK bus from Koboko to Kampala knocked dead a person at Enzeva area, Arivu sub- County in Arua district and the bus was set ablaze by the locals who also beat up the conductor.

In June 2016, a bus registration number UAM 829C belonging to the company, from Arua to Kampala knocked an elephant that was crossing the road and killed it, three people also died and ten passengers sustained multiple injuries.