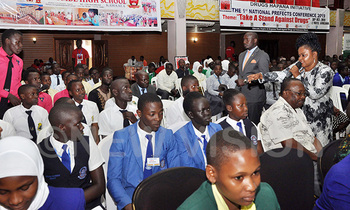 KAMPALA - School administrations have been advised to use students and sports to drag out drug abuse in secondary schools.

At the annual National Prefects Conference 2019 held in Kampala on Wednesday, student leaders from various schools and experts revealed students are the best sources of advice while developing measures to curb drug abuse in secondary schools.

Without citing definite figures, speakers noted that there is a high rate of drug abuse among children in a secondary school in Uganda.

In 2016, some members of civil society presented a petition to Parliament calling for the speedy enactment of the Narcotic Drugs and Psychotropic Substances (control) Bill due to the worrying increase of drug abuse in schools.

Organised by Drugs Hapana Initiative in partnership with Butabika Hospital, the conference attracted over 600 prefects from 54 schools from various regions of the country. With various panelists and speakers, they discussed the measures to prevent drug abuse among schools.

Musician, Joanita Kawalya cautioned the student leaders on concealing information about the cases of fellow students that abuse drugs, saying by doing that, they are being contributors to the vice.

"You know your fellow students who use drugs like 'Kuba'. You look at them spoiling away until they leave school, as you don't do anything as their leaders. It is your role to help such students. It is important to know that drug abuse is dangerous, and once you see a friend doing so, find ways of stopping it," she said.

Shivan Nyombi, a student of Baptist High School, disclosed the different ways students smuggle drugs in schools. "They put drugs in scholastic materials, and hide them on their bodies. They use renowned humble students, day scholars, and some cases teachers and non-teaching staff."

Dr. David Basangwa, a senior consultant Psychiatrist and Executive Director of Butabika hospital, talked about various drugs students use in schools, including dangerous substances like cocaine.

He said many young people in the country are having drug abuse-related problems, and "Butabika hospital receives many young people whose lives are wasted away because of drugs."

"When you're addicted, it becomes difficult for someone to stop using drugs. It affects young people mostly, so such sensitization campaigns caution them," he addressed the conference.

Robert Semaganda, the head boy of Archbishop Kiwunuka SS, Kitovu, suggested showing students the case studies of people who have misused drugs, noting that the effects of drug abuse should be highlighted.

Students advocated for co-curricular activities like sports. "The major reason people use drugs could be idleness. Consider a wide variety of games and sports. These will occupy their minds and develop them. You can be the next biggest football, basketballer, chess champion, without using drugs. Drugs are consumed when students are free, after classes. It comes as a source of recreation, yet there are other sources of recreation that don't have a negative implication," said a student from St. Henry's College, Kitovu.

"There should be rehabilitation services in schools as a more viable option than expelling the students. Expelling is not a cure for drug abuse. It actually increases the student's habit than reducing it," Victoria Mirembe, the head prefect of Christ the King SS, Kalisizo, said, explaining that she has learnt that many drug-abusers are only victims.

Other speakers included singer Vinka real name Vero Luggya, Bill Bekunda (a recovered alcohol addict who shared stories of the causes of addictions and the effects) and actor, Patricko Mujjuuka.