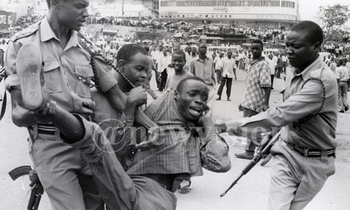 PHOTO: The Police arrest one of the striking taxi operators during a strike in 1995

LIFE THROUGH KALUNGI'S LENS
According to folks involved in the taxi business, including drivers, conductors, 'touts', and owners, but mostly drivers, they are children of a different god from the rest of us. A higher god that demands the rest of us acquiesce to them, otherwise what explains all the stuff they do?

Almost everyone who reads newspapers or listens to the radio and watches TV has known for a long time that work to construct a flyover at the Clock Tower is imminent. To be able to do that, it was announced that operations of the Old Taxi Park were to be shifted to the new USAFI Park.
But just as the operations were due to start this last Tuesday, taxi operators at the Entebbe stage decided they were not going to move. They claimed they were disrespected when KCCA did not write to them officially about the move.



Even government drivers took advantage of the taxi strikes to make an extra buck by carrying passengers
'We're important people, and should have been consulted," the Entebbe stage manager, a one Richard Kiyaga, is quoted to have said. "We're staying here, they should come and talk to us."

In effect, the manager of a taxi stage (just a taxi stage, mind you) threatened to disrupt works that will be of great help to everyone. I'm not sure by the time you read this if they taxi folk at the Entebbe stage in the Old Taxi park have actually gone on strike, or not. But Ugandans have probably forgotten what it is like when taxis go on strike.




Police patrolling around the Old Taxi Park in 1998, to arrest UTODA guys stopping other drivers from carrying passengers
In the days before Jennifer Musisi came along and broke their backs, the Uganda Taxi Operators and Drivers Association (UTODA) would practically and literally hold the whole country at ransom whenever they felt they had not been given enough respect.

People would wake up one morning (it was usually Mondays, for some reason), and find that the taxi folks have gone on strike, and then the whole city would walk to work. Of course, there were those who would try and earn some money by carrying passengers at exorbitant rates, and that is where the violence would start.



Stranded passengers at the Old Taxi park during a taxi strike in 1991
One time, when I'd just started working at the New Vision and staying in Najjanakumbi, I woke up to find no taxis were available, they were all on strike. So, together with dozens of people, we all walked to town (It took us about 30 minutes, but now with the traffic jam it probably takes an hour by car, go figure!). I got to the New Vision sales department, hoping to get transport to the Industrial Area, where the newsroom was. I found quite a number of staff that had the same idea.
Stranded passengers at the Old Taxi park during a taxi strike in 1991
Those days the New Vision had relatively few cars, but it turned out one manager (I wish I would remember who it was) wanted to use the only available pick up to take his daughter to school. We all made such a ruckus that the driver refused to take the manager's daughter, and instead gave us a ride to the newsroom (I don't think that manager lasted for very long after that).

When taxis went on strike, people effectively worked half-days, because they would show up late, having walked from their homes, and leave early to reach home before dark.


Violence inevitably broke out during the taxi strikes
When taxis went on strike, anybody with a vehicle tried to join in the effort to ferry passengers. Lorries, pick-up trucks, vans, and passenger cars all joined in, even army vehicles. Our late colleague Cranimer Mugerwa took an iconic picture of an army tractor ferrying passengers from Namirembe to Kasubi. The driver was so irate that he jumped off the tractor, and chased Mugerwa for several hundred meters. When he gave up he returned to his tractor, to find all the passengers had taken off without paying.




People take cover during violence following a taxi strike in 2000
The UTODA guys ruled the country, till they took on newly appointed KCCA Executive Director Jennifer Musisi, who did not suffer fools gladly. Of course, it also helped that Pioneer buses were in the country, ready to start operations. The buses were rushed through the registration process, took to the roads, and effectively ended UTODA's rule of terror. And soon after that UTODA itself was disbanded. That, in effect, was the end of taxi strikes.