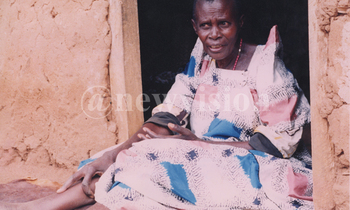 Yowanina Nanyonga who made headlines 10 years ago with her miracle soil which she claimed could cure AIDS. File Photo
October 1989 was different from any other month in independent Uganda for it saw hundreds of thousands of Ugandans, mostly from Kampala capital city, eat an estimated 45 tons of soil.
The people thought that the soil constituted a miracle cure for all illnesses, especially the killer HIV/AIDS that was ravaging the population and had no known cure and even the ARV drugs that suppress it had not yet even been thought about.
The supplier of the 'miracle' soil was a 60-year old peasant woman, Yowanina Nanyonga, at Ntuku village in Mawokota county near Sembabule then in Masaka district. She claimed to have had a heavenly vision showing her how to cure the people, and she allegedly proceeded to cure two teenagers in her compound who were afflicted by serious diseases. Word of her miracle cure, which simply constituted soil scooped from a small hole in her compound, spread like a wildfire.
The scene outside Nanyonga's house in Sembabule on October 17, 1989, with people waiting for the miracle soil. File Photo
For the whole of October 1989, Ntuku was easily the most visited place after Kampala in the country. Day and night, buses, lorries, minibusses, and private cars ferried people to the place which Nanyonga had designated as "holy ground". Long queues segregated between male and female snaked their way to the house where she dispensed a mug of soil scooped from a small hole in the ground per person, instructing them to consume it either directly or mixed in water and to share with family members and relatives. Rumours of rapid recovery from all ailments were spread and Nanyonga's fame grew uncontrollably.
Nanyonga's house in 1999.File Photo
Rich and poor, weak and powerful, they all went to Nanyonga's home. Powerful people in government used personnel of the then National Resistance Army to gain access without waiting in the queue. Many of Kampala's rich elite, then coming from the Kikuubo trading area, went to Nanyonga's and humbly received their mug of soil from the illiterate peasant woman.
Finally, at the end of the month, the government decided that enough was enough. The then minister of health, Zak Kaheru, ordered Nanyonga to stop dispensing her soil forthwith. The ministry had duly tested both Nanyonga's soil and several people who were alleged to have been cured by it and proved that it was worthless. Nor had the people been cured of any illness by consuming it. As fast as it had started, the Nanyonga craze died out suddenly. The brief season of superstition was over, and the people moved on to seek realistic solutions to their problems.