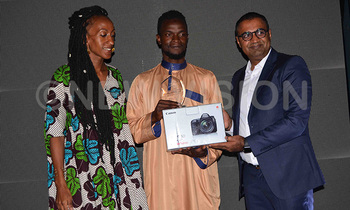 PHOTOJOURNALISM

KAMPALA - Despite the challenges they face as they do their work, Uganda's photo-journalists still have a deep devotion to their trade.

They proved their professional commitment by their impressive attendance of the 8th Uganda Press Photo Awards ceremony at Uganda Railways Headquarters in Kampala, on Saturday.

Despite the unfriendly evening weather and a slight delay caused by some technical shortcomings, the function was generally interesting thanks to the event's hosts, Samson Kasumba and Halima Athumani, who kept the audience hooked with their rib-crackers.

Right from the start of the function, the local photojournalists and their fans were visibly eager to know the respective winners, which was why they were evidently not bothered by the chilling weather.
Photojournalism fans admiring some of the pictures taken by the participants of the Uganda Press Photo Awards

The Winners

Vision Group's Katumba Badru Sultan (who introduced himself as a freelance photo-journalist), was declared the overall winner of the contest. Katumba was also the winner in the 'Daily Life' category.

Vision Group's photojournalists Richard Sanya and Stuart Yiga were declared as first runner-up and second runner-up in the categories of 'Sports' and 'News,' respectively.

The winners of the respective categories were given professional-level Camera equipment sponsored by Canon.

Category Winners

Young Photographer Award: Immaculate Bashaba

East African Photography Award: Martha Tadese (from Ethiopia)

Urban: Arnold Mugasha

Sport: Innocent Mutaawe

People: Kuloba Peter Tera

Environment: Peter Mayanja

Daily Life: Katumba Badru Sultan

News: Abubaker Lubowa

The magnitude and tempo of the function were boosted significantly by the presence of the counsellor, Head of Cooperation of the Delegation of European Union to Uganda, Cedric Merel, the Country Manager of Canon (based in Kenya), Zaffar Latif and the Resident Director at Friedrich-Ebert-Stiftung, Rolf Paash.

Also in attendance was the Canon Miraisha Programme Manager for Africa, Katie Simmonds, the Director of Uganda Press Photo Award, Anna Kucma and the Chief Commercial Officer of Uganda Railways, Stephen Wakasenza.

The Correspondents' Association of Uganda, an organization of journalists who work in Uganda for foreign media organizations, also took credit for founding and supporting the awards.

Further to the awards presentation, people enjoyed a photo-exhibition, which show-cases exciting photographs by the winners and runners-up of the awards. The free-entry exhibition will run till November 16.