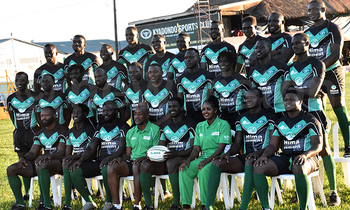 The Hima Cement Heathens Rugby Club on Thursday unveiled their squad for the 2019/20 season as well as their kit.
Heathens who are the defending league champions unveiled their seven new signings: Aaron Ofoyrwoth and Scott Olwoch from Kenya Harlequins, Jamil Nyango (Rhinos), Musasizi Boaz (Toyota Buffaloes), Joseph Oyet (Warriors), Innocent Gwokto Thomas and Victor Wangobo.
Heathens coach Muhamad Athio said the new recruits will help his side achieve their target of defending the league title and winning the Uganda Cup that gets underway on Saturday.
Heathens open their Uganda Cup campaign against Makerere Impis at the Graveyard Ground, Makerere.
"We have got key experienced players and youngsters. I'm optimistic they will add value to our team so that we meet our target," Athio said.
Christine Kyokunda, the Hima Cement marketing officer, promised her company's continued support to Heathens.
"We have built a relationship with Heathens that is hard to break and as a company supporting sports, we are committed to continuing partnering with Heathens," Kyokunda said.
Hima Cement injects sh90m in Heathens annually of which sh50m is cash and sh40m is for the kit which includes the home and away jersey, boots, track-suits, changing t-shirts, training kit and a kit bag for each player.