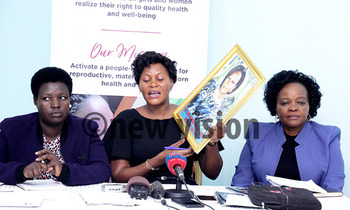 Maureen Acan who is an enrolled midwife at Pogo health Center III helps mothers to deliver in the night with the aid of a rechargeable lamp or a touch.

Acan estimates that in a month she delivers about 16 mothers.

"My biggest challenge is the lack of a functioning light. As such I used my own rechargeable lamp or touch to deliver mothers in the night," said Acan.

She highlights lack of delivery beds, a labour suite and a maternity ward as the other challenges that the facility is grappling with.
As such, after delivery mothers are first allowed to rest in a small room which only accommodates two beds. The small room also doubles as an antenatal care clinic.

Additionally, the facility is not supplied with medicines such as oxytocin that control heavy bleeding after delivery and Maama kits.

Consequently, health workers at Pogo health centre IV are forced to pick the drug and supplies from nearby health facilities.

Walter Lawok who is the senior clinical officer said the facility services a population of 7,200 people in the three villages of Okwere, Ceri and Ogwera in Pogo sub-county in Amuru district.

The pathetic maternal health care situation at Pogo health centre III confirms the report findings from a recent survey dubbed: "What Women Want Campaign" which was conducted by White Ribbon Alliance Uganda in 32 districts.

The same report indicates that responses from over 90,000 women and girls across all age groups, collected from the districts reveal that reproductive and maternal health care in Uganda does not meet the needs of women and girls.

"What women want," was a survey into women's opinion on their own needs for quality reproductive and maternal health care.

The revelations were made during a launch of the "What Women Want" report.
L-R Mighty Princess Diana High School Munyonyo Student Esther Namale, Coordinator White Ribbon Alliance Uganda Robina Biteyi, Women MP Bukoroo District Hon. Evelyn Chemutai, Regional Communication Advisor White Ribbon Alliance Faridah Mwanje and Commissioner Maternal Child Health Jesca Nsungwa.
Lack of quality maternal health care in some health facilities across the country has been linked to high maternal deaths that the country is grappling with.

Currently, the maternal mortality rate stands at 336 per 100,000 live births (UDHS 2016). This translates into 16 mothers dying every day due to preventable causes.

Commissioner in-charge of maternal-child health at the health ministry, Dr Jesica Nsungwa Sabiti, said that although 73% of the people in Uganda now live within a five-kilometre distance from the static health care facility, the issue of providing quality health care is still neglected.

"In many health facilities, mothers are beaten, which some health workers think is a way of getting them to be courageous. There is a need to listen to the women, and handle them in a dignified manner while ensuring that they get quality health care services," Dr Nsungwa noted.

She applauded the White Ribbon Alliance team and said that the report is providing a yardstick to measure clients' satisfaction.

Additionally, the report will provide a basis on developing programs, interventions, curriculum and centres of excellence to train health workers to offer human-centred services as well a being responsive to people; families knowing what they want. Consequently, enabling people to access universal health care coverage.

In terms of Universal Health Care coverage, Uganda stands at 44%, yet the WHO target is 90%.
This implies that we have a long way to go and it is only such measures that will help people access the services.

White Ribbon Alliance Uganda National Coordinator Robina Biteyi said it is important that women and girls receive quality, equitable and dignified care if we are to achieve related Sustainable Development Goals (SDGs) and universal health coverage.

To provide quality healthcare Biteyi said there is a need to understand what quality means to women and girls.

"Quality has a huge impact on whether a woman or girl will seek care which is the main objective of the What Women Want campaign," she noted

Biteyi urged health workers and policymakers to listen to the opinions of women and girls about their health because of these voices matter.

The regional communications advisor Faridah Luyiga Mwaje said the report will help advance programs and policies that matter to women and girls.