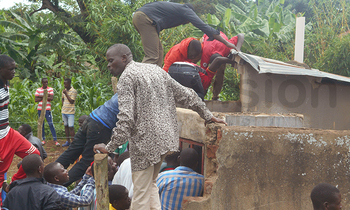 How far would a person be willing to get their hands on tickets to the hottest event in town?
As far as far goes, if the dramatic scenes from Nakaseke Town on Wednesday are anything to go by.
The drama unfolded when two men who were distributing free tickets for this weekend's Buganda Masaza Cup finals, were forced to ignore the nauseating stench and seek refuge inside a latrine as fans scrambled for the tickets.
The fans being equal to the task, camped outside the place of convenience having set upon the two men who were said to be Nakaseke South MP Paul Lutamaguzi's aides.
The two distributors and the eager crowd had to bear the stench emanating from the latrine for about 40 minutes as fans trampled over each other and others scaled walls to get their hands on the tickets.
The incident took place at around 10:00 am the Nakaseke ssaza headquarters after Lutamaguzi made tickets worth sh2m available for his constituents in Nakaseke town.
Bulemezi County which comprises of Luweero and Nakaseke districts, will this weekend face Busiro County in the Masaza Cup final at Mandela National Stadium, Namboole.
During the function at the Nakaseke headquarters witnessed by Buganda kingdom officials, Charles Nsereko, the husband to National Resistance Movement treasurer Rose Namayanja, also donated tickets worth sh2m.
Kingdom officials who turned up to witness the ceremony urged the people of Nakaseke to turn up in big numbers for the match which will be presided over by Kabaka Ronald Muwenda Mutebi.