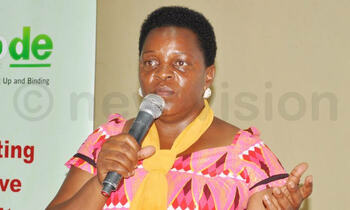 LABOUR FORCE
They work like machines. Their job burden includes, tilling gardens, taking care of children, cooking food, washing dishes and clothes, ironing clothes, mopping the house and diligently ensuring that all the other household chores are done. But for no pay!
According to the state minister for gender and cultural affairs, Peace Mutuuzo, the unpaid household labour situation is alarming when it comes to rural women.
"Some of the challenges faced by rural women and girls include the unfair distribution of productive resources including access to and control to land and the heavier workload including unpaid care work, which continues to constrain women's participation in decision-making and politics," Mutuuzo said on Wednesday while addressing journalists at the Uganda Media Centre.
The cost of unpaid women labour in the country, Mutuuzo said, is sh10 trillion.
She said with limited productive resources at there disposal, women and girls are struggling to fend for large families including orphans and vulnerable children, a situation that pushes them into hard labour for no pay.
Women, Mutuuzo said constitute over 51% of the total population, and that by leaving them to hustle in the vicious cycle of unpaid labour at home, is a recipe for underdevelopment in the country.
"For Vision 2040 to be achieved, we should not leave women behind or confine them only to the kitchen," she said.
To celebrate the role of women, Mutuuzo said, Uganda has joined other countries to mark the International Rural Women's Day at Arapai, Soroti district under the theme, 'Rural Women's Economic Empowerment Through Savings and Affordable Credit.'
Rural women make up a quarter of the world population, with 76% of rural women living in abject poverty.
"In this regard, the NRM Government has prioritised the empowerment of rural women and girls as critical actors in the economic growth and sustainable development agenda of the country," she said.