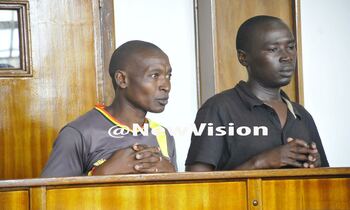 ILLEGAL FISHING

The Buganda Road Chief Magistrates' Court in Kampala has sentenced two men to six months imprisonment over fishing with prohibited fish nets.

Yasin Tabu, 38 and Daniel Tusingwire, 30, all fishermen are to spend six months in Luzira Prison after the court presided over by Grade One Magistrate, Marion Mageni found them guilty.
The duo were convicted with two counts of fishing using prohibited nets and operating without a valid license.

The offences contravene sections 28 and 33 of the Fish Act Cap, 197 as amended by the Fish Amendment Act of 2011.

On delivering the sentence to the convicts, the learned magistrate sentenced the duo to six months imprisonment or pay a fine of sh300, 000 each.

"I convict you on your own plea of guilty and I sentence you accordingly, you will pay a fine of sh300, 000 and on default serve six months in jail," Mageni ruled.

However, the duo were jailed on grounds that they did not have the money and neither did any of their relatives.

Prior to the sentence, the accused had requested court to be merciful to them and offer them a non-custodial sentence for they were family men and the sole bread winners for their children.

"Your worship, we have learnt from our initial mistakes, be pleased and let us free. Never shall we ever practice illegal fishing," Tabu said.

But their requests ended in vain as prison wardens escorted them to the court cells where they were later be taken to prison.

Prosecution alleged that the convicts, on June 13, 2019 at sailing club, Gundda, in the waters of Lake Victoria in Wakiso district were found fishing using illegal fishing gears which is prohibited.

It was further asserted that the duo were found fishing without a valid license issued by the Chief Fisheries Officer for purpose of sale.