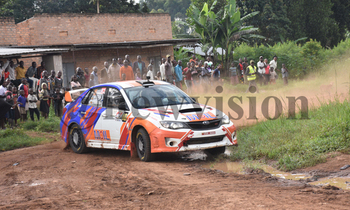 Total Kabalega Rally provisional results
Arthur Blick Jr 1.41.20
Omar Mayanja 1.41.40
Dr. Ashraf Ahmed 1.54.58
Yasin Nasser 2.01.45
Fred Busulwa 2.06:31
CRC class
Rajiv Ruparelia 1:09:37
Peter Businge 1:31:16
Ibrahim Lubega 1:35:17
Muzamiru Watolya 1:50:12
Najib Ssempijja 2:00:48
Table standings
Yasin Nasser 420
Blick 385
Ronald Ssebuguzi 300
Hassan Alwi 260
Christakis Fitidis 258
After finishing fourth in the Total Kabalega rally on Saturday and Sunday in Hoima district that was won by Arthur Blick Jr, Yasin Nasser has promised to take the National Rally Championship fight to MOSAC rally next month.
Nasser finished fourth behind Blick, Omar Mayanja and Dr. Ahmed Ashraf who were first, second and third respectively.
"We suffered a puncture and lost time, but we are going to take the fight to Mbale or Kapeeka as confirmed by the organisers," Nasser said.
"We are leading the NRC with 35 points and we are aware of the stiff competition, but we are ready for the fight."
An excited rally fan. PHOTOS: Johnson Were
Meanwhile, the Shell Helix fueled driver Blick navigated by George Ssemakula in a Mitsubishi Evo10 is also spitting fire.
An excited Blick said while pointing to the sky, "It is the mercy of our good Lord Jesus Christ that has brought us back to the winning form. Despite the tough competition, we have got back to back wins that have boosted our morale and brought us near the NRC and we shall go for it."
This is Blick's second win this season with the first being in the Fort Portal rally last month.
Mayanja attributed his defeat to a puncture in the last section but congratulated his Shell teammate for the win.
The 2008 CRC and NRC champion Dr. Ashraf Ahmed said finishing third is a sign that he is improving on his speed, and targets a top-five finish this season.
"The rally was tough but we managed to finish and we look at improving in the next rally," Ali said.
Rajiv wins CRC
Meanwhile, Rajiv who won the CRC category said the event was a good testimony to the top drivers that the young boys can challenge them.
"We only appeal to them to guide us but not to fight us, so that we can be able to beat the Kenyans. With Jas Mangat, Yasin, Alwi and seniors Blick, Ssebuguzi, Omar we can silence the Kenyans and bring back our glory," Rajiv said.
"We stopped in the sixth stage when leading the overall because we were advised by our manager that we had finished a 50% as the CRC regulations states.," Rajiv added.
The last event will be held next month in November 30=December 1.