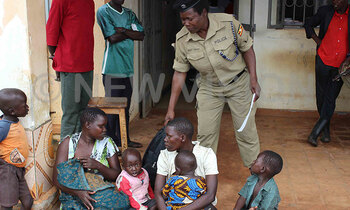 HEALTH
Police in Kaberamaido is holding five people for allegedly refusing their children from being immunised against measles, rubella, and polio.
The District Police Commander of Kaberamaido, Godfrey Abigaba said the five people arrested included two women and three men.
The five suspects include Epau Moses 22 with his wife Ketty Ayugi aged 25 years.
The other is Fred Ewoku aged 39 years and his wife Aida Amito aged 25 years.
One man was arrested alone since his wife was not home.
Abigaba said Epau and Ewoku were arrested and taken to police after it was reported that they had refused to take their children for mass immunisation.
The two families were picked with their children whom they had kept at home for the last five days without taking them for immunisation.
Epau had two children aged three years and the other aged one year and five months.
Abegaba said Ewoku was got with six children not immunised and were all bundled up and taken to Kaberamaido Central Police Station.
Upon being interrogated, Abigaba said two women were handed over to the district health officials to have their children immunised.
Since she has delivered at the health unit before, she said her children had been immunised but she failed to know why her husband had ordered her not to have the children immunised this time round. "I am now worried about how I will stay. I have fears that my husband may abandon me with all these children.
Instead of him rejecting the children, he will end up rejecting me with all my children", Amito said.
While in the police cells, Ewoku said if his children were going to be immunised against his will and interest, then the government should be ready to take over the responsibility of taking care of the children.
Meanwhile, Ayugi on her part said she had just made up her mind not to have her children immunised. She said her faith was against the immunisation of children.
When asked which faith she was following, she said she did not belong to any known religious sect but she had her own conviction that she did not need to have her children immunised.
Police said they were going to have the suspects charged with sabotaging a government programme.
However, the ministry of health official who was monitoring the mass measles, rubella and polio immunisation in Kaberamaido and Kalaki districts, Mildred Lunguse said the five cases were a bad example in the programme.
She said the law should take its course on those who were found in the wrong.
Lunguse said even if there were some few isolated cases of resistance and dodging, the exercise was generally successful.
"A number of sub-counties scored over 96% success. I can say the program was successful", Lunguse said.
The acting District Health Officer of Kaberamaido, James Daniel Odongo said the exercise ended well.