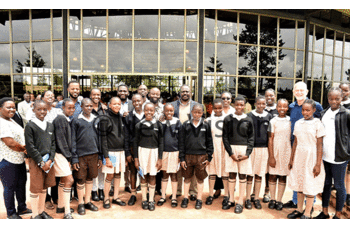 MPIGI: The Deputy Speaker, Jacob Oulanyah, has urged underprivileged youth to use their humble beginnings as a stepping stone to better themselves and take advantage of any opportunity handed to them.

The Deputy Speaker made these remarks while visiting the Watoto Suubi Children's Village, a child based community for orphans and disadvantaged children in Maya, Mpigi District.

Oulanyah told the children that they are so lucky and blessed to have a Pastor like Garry Skinner and his wife to impact the lives of people who will propagate God's purposes.

"It is good to see that there are institutions like this that have taken you from wherever you have been and made your life better and more worthwhile," he said, adding that, "Thank God for everything because there are many out there who would wish for this".

The Deputy Speaker shared his story with the children saying he is definitely one who has been rescued and gone through a transformation.

"I have had those days where I went without food; growing up I used to fight on average 5 times a day to go to school; I had trouble finding where to sleep sometimes and I even had to be a potter at a building site just to get by," he added.


He, however, noted that when there are challenges, therein lies the strength to overcome. "When you think you are suffering, you are actually blessed and I come here to celebrate with you God's amazing grace that you are in such a situation," Oulanyah said.

He also added that they need to utilize this moment granted to them by Watoto to become individuals who can positively impact their society.

The village comprises of homes, baby nursing homes, a primary, secondary and vocational training school.
Pastor Skinner, the founder of Watoto Suubi Children's village and Watoto Church said they are reaching out to thousands of desperate children educating them and helping families in difficult situations.

"We have been on this village for a while now helping children who had lost their parents to HIV/AIDS. We set up a community in the form of homes, especially for mothers who are helpless to transform their lives," he said.

Skinner said that Church is here to love and to help people and, "we can help the government instead of them helping us".
Oulanya (right) one of the children as Pastor Skinner (left) looks on.
Skinner added that they try to help every child reach their potential and talents which include singing, sports or educational.

He said that everyone has a purpose in life and therefore it is worthwhile rescuing children, raising them into leaders so that they can rebuild the nation.